8 Natural Furniture Ideas For Nature-Inspired Interior Design
Whether you're trying to create a serene oasis or just want to bring nature into your home, natural furniture is a great option. Not only do these pieces have the look and feel of the outdoors, they can also help to breathe life and energy into your space. With so many different options available, it can be hard to decide which ones will work best for you and your space! So we've put together this list of our favorite natural furniture ideas for helping you get started on designing with nature in mind.
Natural Furniture Pieces To Add To Your Home
**This page contains affiliate links. If you make a purchase through these links I may receive a small commission. See the full disclosure here.**
Natural Wood Furniture
When it comes to natural materials and natural furniture, wood is one of the most versatile. Natural wood furniture can add warmth, texture, and a beautiful organic feel to your home. With a wide variety of wood furniture on the market right now, you'll have freedom when designing your space.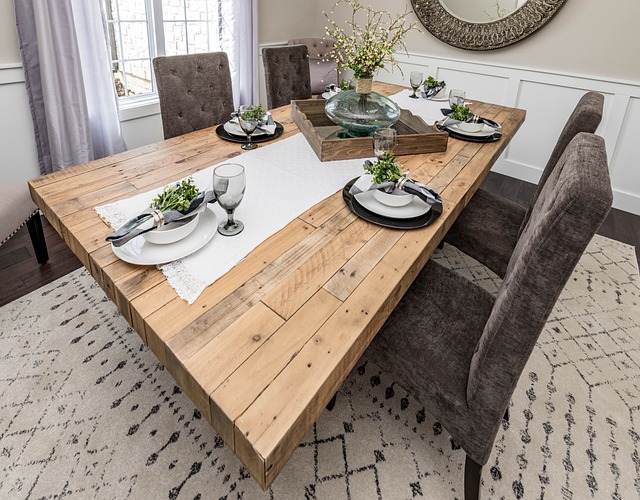 Natural woods are available in several shades including oak, maple, cherrywood, hickory, and pine among others. If you choose one color over another then consider whether or not this will clash with other colors used throughout your home such as your floors, walls, and your existing furniture and decor.
If you are considering using a lot of wooden furniture in your home, here are some things to consider:
If you have hardwood floors, don't match your furniture and floor. According to Flooring.inc, creating contrasts with wood furniture will accentuate the design of the entire room and break any monotony. This technique also gives each furniture piece space to shine on its own.
When combining different wood tones match the undertones between the pieces. If you plan to use wood furniture with different color finishes, figuring out undertones first can make all of the difference. Pay attention to whether your dominant wood tone is warm, cool, or neutral, and stay in the same family to create a coherent thread.
Rattan Furniture
Rattan furniture is a natural material made from the stems of a palm tree. The stem grows in the tropical regions of Asia, Africa, and Australia. Rattan furniture can be constructed into many different styles and colors. It's extremely durable, trendy, and pairs well with other furniture pieces.
Although rattan furniture has long been associated with outdoor decor, It has made its way into living rooms, dining rooms nad bedrooms. There is a variety of rattan shelves, lounge chairs, headboards and decor on the market now—all perfect for adding some nature-inspired appeal to any space.
Rattan furniture is also very easy to care for; just wipe it down with a damp cloth or use a hand brush occasionally when cleaning up spills or dirt. While rattan is a natural material found in the outdoors, it is still better to give it protection when using it outside your home. Investing in an outdoor rain cover will keep the rattan furniture dry during the colder months of the year, and protect it from moisture in the air.
Try These: 16 Stunning Rattan Accent Chairs To Add To Your Living Room
Bamboo Furniture
Bamboo is popular because of its natural beauty and durability; It's strong, and flexible, making it ideal for furniture, flooring, decor, and other uses.
Bamboo is a renewable resource that can be 'harvested' every 3-5 years without damaging the plant itself (in fact, bamboo grows back even faster than you can harvest it).
If you want to add warmth, texture, and charm to your decor without sacrificing comfort or style consider bamboo furniture pieces as part of your design plan.
Wicker Furniture
Wicker furniture is more of a style than it is a material. It is a method of weaving natural fibers such as rattan, bamboo, and cane. Wicker can be constructed into furniture pieces that are strong, easy to clean, and requires minimal maintenance to keep it looking good.
Wicker furniture can be expensive because it requires a lot of work during production (it has to be hand-woven). But they also have an earthy appeal which many people find attractive in their homes.
They are most commonly used outdoors but like rattan, they can be incorporated into your indoor decor to create texture and charm.
Cane Furniture
Cane furniture is a beautiful way to add texture warmth and elegance to your home. The word "cane" may refer to any plant with a long, thin stem. However, the cane used for furniture is actually derived from the rattan vine native to Indonesia, the Philippines and Malaysia.
The cane is dried and then woven together to create a strong framework for the piece of furniture. The smaller pieces of cane are used to make seats while larger pieces are used for backrests or armrests. Cane is often combined with other natural materials such as wood, bamboo, and rattan to create beautiful pieces of furniture that add a rustic look and natural warm tones to any space.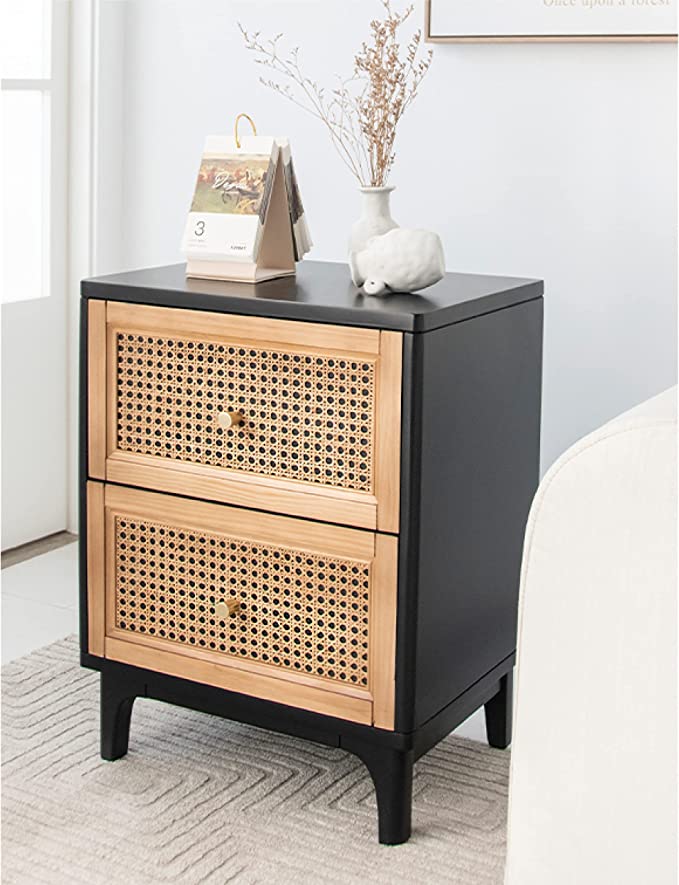 Cane furniture can get quite expensive depending on the design as it requires more time and skill to make. However, I've seen many DIY furniture upgrades using these pre-woven cane sheets on Amazon. If you just want to add a few cane elements to the existing furniture you can try these cane sheets.
Driftwood Furniture
Most driftwood is the remains of trees or mangrove roots, in whole or part, that have been washed into the ocean, due to high winds, high tides, storms, or other natural occurrences. These pieces can be used for building furniture and decor accessories. Driftwood furniture has a beautifully unique and organic shape to it that you can't get with regular wood. This type of wood is perfect for rustic, nature-inspired interior design and cabin decor.
Driftwood can be combined with other natural materials such as glass, and wood to make furniture, wall art, and other decor items. By combining these elements you can create stunning nature-themed interiors. See more driftwood furniture ideas here in my other article.
Try These: 12 Beautiful Tree Stump End Tables!
Leather Furniture
Leather furniture is a great choice for your living room or family room. This kind of furniture is very durable and will last you for years to come, making it one of the more sustainable options out there. If you have pets or little ones running around, leather furniture will hold up to their activities better than other types of material like fabric.
It's also easy to clean! Simply wipe the leather with a damp cloth (do not use liquid cleaners on leather) and let dry before using again. Leather can be expensive but considering the longevity, it will be worth the investment in the long run. If you just want the look of leather faux leather is a popular option available in a variety of styles and colors.
Reclaimed Wood Furniture
Reclaimed wood furniture is simply furniture created with recycled timber and it can be an excellent way to add a more natural look to your home. You can also purchase old antique furniture and have it restored or refinished so that it looks like new again.
Reclaimed or repurposed furniture has a rustic look with its many imperfections, which gives them character and makes them unique pieces for any room in your house or office space.
Adding a few key pieces of natural furniture to your home can help tie in that nature-inspired style. Natural furniture is often more affordable than you might think and it can be sustainably sourced, too. Plus there's the added bonus of comfort—soft leathers, cushy fabrics, and softwoods make for some comfy couches that are just begging to be sunk into after a long day.
As you can see, there are a lot of great natural furniture options out there. We hope our list gave you some new ideas on how to incorporate nature into your home design!
If you want more inspiration for creating natural interior design and home decor check out our other blogs on the topic:
Pin This For Later!