16 Driftwood Furniture Ideas For A Beach-Inspired Home
Driftwood furniture is a great way to add a natural and organic element to your home. The rustic yet elegant look and feel of these pieces will make any space feel more earthy, relaxing, and connected with nature. It's also eco-friendly!
Driftwood has long been a symbol of the rugged, unspoiled nature of the great outdoors. Driftwood is wood that has been washed onto a shore or beach of a sea, lake, or river by the action of winds, tides or waves. These sun-bleached pieces of wood can be used to create some really unique and stunning furniture and home accessories.
If you want to add a beachy, nature-inspired vibe to your home driftwood furniture is an excellent option. These pieces are a staple in coastal and ocean-inspired interior designs but can be used in any interior to add a touch of nature.
Whether you want to highlight your love of nature or complete your beach house decor, these driftwood furniture ideas will get you inspired! Here are some of my favorite driftwood furniture ideas.
Driftwood Furniture Ideas For Every Room!
**This page contains affiliate links. If you make a purchase through these links I may receive a small commission at no extra cost to you. See the full disclosure here.**
Rustic Driftwood Headboard
A headboard made from driftwood can be used as a standalone piece or as part of a larger bed set. A driftwood bed frame is combined with forest wallpaper and rustic accents to create this earthy nature-themed bedroom design.
Driftwood Room Divider
A room divider made out of driftwood adds some texture and character to any room without being too imposing or bulky like some other types of furniture might be if they were made out of wood instead. It's also easy to move around if you want to rearrange things in your living space!
Driftwood Bookshelf
Bookshelves don't have to be boring! With this bookcase made out of old pallets and some beautiful driftwood pieces you can create something that looks like it came straight out of nature
Driftwood Framed Mirror
One of my favorite ways to use driftwood in decorating is with mirrors. Mirrors are an excellent way to add light and depth to any room. Embellishing them with pieces of driftwood will add a touch of coastal charm to your room. The best part is that you can totally DIY these! You'll get that beachy vibe without breaking the bank, Win!
Driftwood Floor Lamp
This lamp looks like it's straight out of a beach cottage. The warm yellow light will make any room cozy and inviting.
Driftwood Bed Canopy
This canopy is perfect for creating a relaxing atmosphere in your bedroom or guest room. It's just the right amount of vintage charm without being too much.
Driftwood Daybed
If you're looking for an easy way to add some color to your backyard or patio, this daybed is it! We love the bright yellow color paired with the wood frame—it makes us feel like we could be sitting on a sandy beach somewhere tropical.
Driftwood Console/ Bar Table
This piece combines the rustic feel of driftwood with modern design elements for a look that's both timeless and trendy.
Driftwood & Glass Dining Table
This driftwood dining table combines glass with a driftwood base to create a stunning organic piece that's hard to ignore. The clear glass top ensures the beautiful shape of driftwood gets all the attention it deserves.
Driftwood Coat Rack
If you're looking for a quick and easy way to add driftwood to your home try a coat rack tree made out of driftwood. Just use a sheet of 180- to 300-grit sandpaper to smooth around the branches of your tree. This way your new coat rack won't tear a hole in your coats.
Driftwood Coffee Table
A coffee table is a great place to start when you're thinking about incorporating driftwood into your home decor. Your living room is the perfect place to showcase a unique piece of driftwood. Pair it with a glass or wood top to keep it modern and functional.
Driftwood Towel Rack
Another fun and easy way to add a touch of nature to your home is with a driftwood towel rack. This driftwood ladder towel rack blends perfectly in this outdoor shower. You can make one from scratch or grab this one off of Amazon!
Driftwood Accent Chair
This driftwood accent chair is modern, minimalistic, and perfect for coastal interiors. 6 pieces of wood are combined with translucent acrylic to create an elegant, unique, and contemporary piece. Check out this chair on Etsy.
Driftwood Outdoor Bench
A driftwood bench is a perfect addition to your garden. This one blend right in with its natural environment. The pillows soften the look, making it the go-to spot to enjoy spring and summer. This bench looks like it's fresh out of a fairytale!
Driftwood Pendant Lamp
Need some extra lighting? Nothing spells cozy like a driftwood chandelier. The lights and plants create a beautiful cascading effect that delivers warmth and earthiness to any space.
Driftwood Plant Stand
These plants look right at home on this piece. The glossy finish on this driftwood plant stand adds a nice sparkle and shine to it. A beautiful piece to bring the outdoors in.
Driftwood Wall Shelf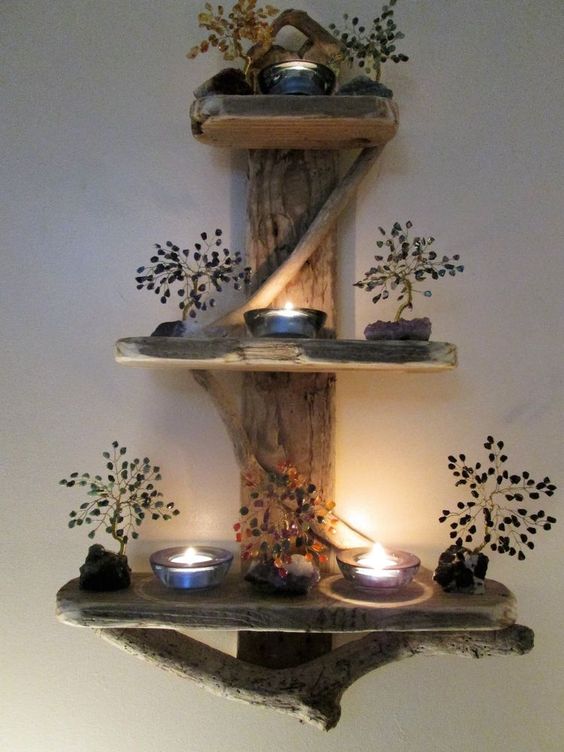 Add a little extra storage and rustic charm with a driftwood wall shelf. This piece looks like a beautifully lit tree.
Driftwood furniture is a trend that's been around for a while, but it's still going strong. It's also easy to do yourself! it's one of the easiest ways to add a rustic feel to your home without spending a fortune. I hope you were inspired by these driftwood furniture ideas. Happy Decorating!
Want More Natural Furniture Ideas?
Pin It For Later!