22 Modern Earthy Living Room Ideas You'll Love!
If you're looking for modern earthy living room design ideas then I have a real treat for you! Earth tones in home design have been popular for decades due to their versatility and beauty. I compiled a list of stunning nature-inspired living room designs for your inspiration.
"Earthy decor" describes a palette of colors inspired by nature.  Browns, grays, greens, tans, and pops of orange work together harmoniously to mimic the color scheme found in the great outdoors. Design schemes featuring earth tones are warm, rich,  and invoke a sense of unparalleled comfort.
Creating an 'Earthy' vibe in your living room can be done in many ways. It can have a rustic and bohemian or minimalist design, or it can be modern and sleek. Which you'll see in this list.
While color is important for achieving this look, we can't ignore the accessories and decorative elements that make or break this design style.
Bringing natural elements into your home decor creates interest and freshness in the space. Woven textures, wooden furniture, and lots of plants all play a crucial role in creating earthy decor.
So, to help inspire your next living room upgrade, here are 22 gorgeous modern earthy living room ideas!
Modern Earthy Design Ideas For Your Living Room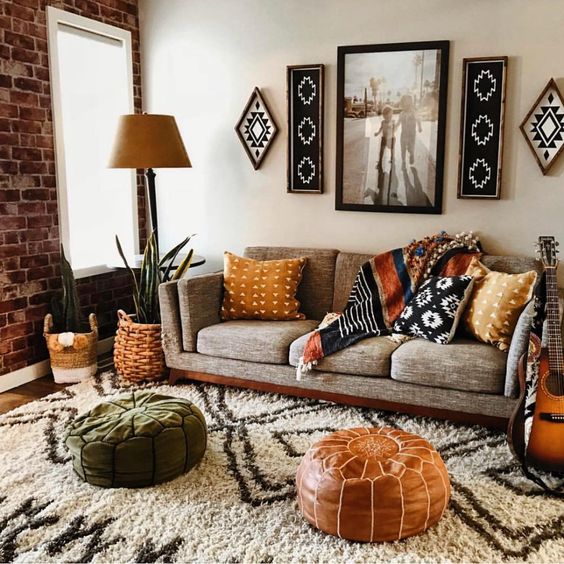 There you have it! 22 modern earthy living room ideas to inspire! Nature-inspired decor is versatile and beautiful. Earth tones are a must but accessorizing is equally important. Be sure to add some natural decor elements to your space, like woven furniture or baskets, a jute rug, or textured wall art. After all, the beauty in the details. I hope you were as inspired as I was while creating this list!
Happy decorating!
You May Also Like: