10 Washable Jute Style Rugs You Have To See!
If you love the look of a jute rug but hate that scratchy feel that comes with it, then you'll love these jute-style rugs from Ruggable. Meet the Re-jute collection! – Machine-washable Jute-styled rugs!
Ruggable's Re-Jute rugs are "Jute Re-imagined" – A Jute-like rug you can wash! These rugs are made with durable, stain-resistant materials that naturally don't shed or fray. They're designed for high traffic areas, they're pet, and kid-friendly, and come in a variety of styles and sizes.
With the Re-Jute you get the look of a classic jute rug without the rough feel and potential shedding. "Re-Jute rugs feature a basket-weave texture that's flat and smooth under bare feet, without the coarse, scratchy feel that is typical of natural jute rugs." – Ruggable.
Fewer Discarded Rugs In Landfills
More importantly, you may never have to throw away another jute rug again! Re-Jute rugs' built-to-last construction and easy-to-clean features mean fewer discarded rugs in landfills. Each rug is made with up to 180 recycled plastic water bottles.
Ready to be wowed? Here are 10 Stunning machine-washable jute-styled rugs from Ruggable! All rugs are available in runners and area rugs! Also, check out their washable doormats.
**This page contains affiliate links. If you make a purchase through these links I may receive a small commission at no extra cost to you. See the full disclosure here.**
10 Gorgeous Jute Style Rugs You Can Wash!
Maia Oatmeal Re-Jute Rug (Indoor / Outdoor)
The Maia Oatmeal Re-Jute Rug is dainty and detailed. This indoor/outdoor Re-Jute rug features cream-colored flowers and leaves that make up the bordered pattern of this washable rug. Available in area rugs and runners. Price range from $159 – $469. Buy It Here at Ruggable.
Flatwoven Warm Sand Re-Jute Rug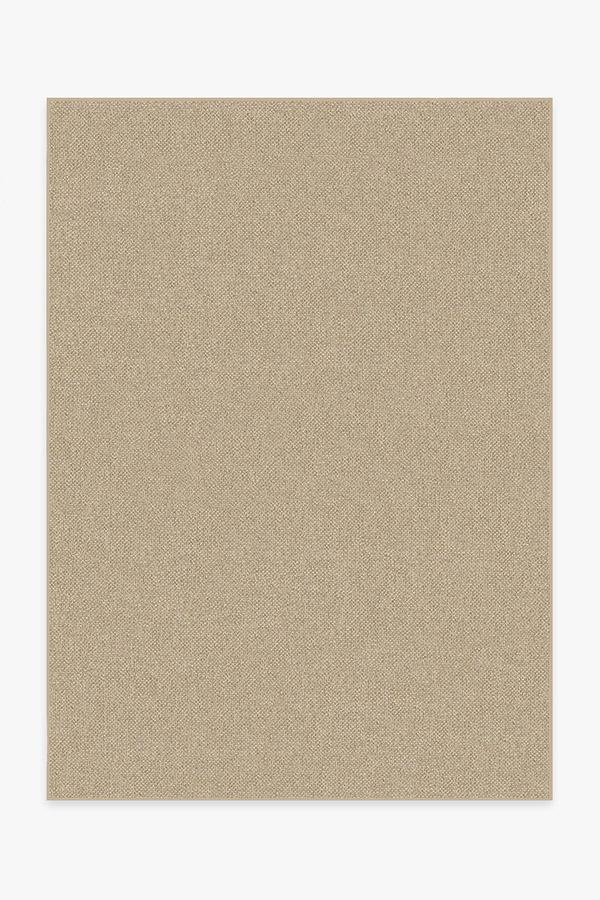 The Flatwoven Warm Sand Rug is clean and simple. This washable jute rug features a woven texture and natural tan color that combine the classic look of jute with the ease of washability. Price range from $159 – $469 with multiple sizes available. Buy It Here at Ruggable
Sierra Black & Sand Re-Jute Rug
The Sierra Black & Sand Re-Jute Rug is an easy way to spice up your space. This rug uses sleek lines and geometric shapes, tinted in black on a natural tan background. Made with a washable woven material that gives it a jute-like appearance. Made with recycled + virgin polyester, and polyurethane. Buy it Here at Ruggable.
The Sierra Rug is available in multiple colors:
Antique Oak
Black Sand
Natural Navy &
Redwood (Above)
Border Braid Sand Re-Jute Rug
The Border Braid Sand Rug is a versatile design that'll complement any decor style. This washable rug looks like a hand-braided textile in a neutral palette. The light sand and natural tan colors create a braided jute-like appearance. Get it Here at Ruggable
Terra Black & Sand Re-Jute Rug
Stunning stripes that make a statement. The Terra Black & Sand Re-Jute Rug features various patterns in black to create a striped effect. Its natural tan color and woven texture give it a jute-like appearance that's easily washable. Buy It Here.
Maia Soft Black Re-Jute Rug
The Maia Soft Black Re-Jute Rug delivers an intricate and elegant design to any space. This traditional rug features a border pattern with delicate flowers and leaves in black on a natural tan background. It is made from a washable woven material that has a jute-like texture. Get it here.
Canvi Stripe Re-Jute Rug
Stripes get an upgrade with the Canvi Re-Jute Area Rug. Black lines of varying thickness sit on a natural tan-colored background, capped with green ends for a modern look. Get it Here.
Madera Sand Re-Jute Rug
The Madera Sand Re-Jute Rug features versatile neutrals that go with anything. This tan and taupe rug delivers a modern, minimalistic design with a geometric diamond pattern. See more sizes here.
Chevron Braid Sand Re-Jute Rug
A chevron pattern with an organic appeal. This two-toned Chevron Re-Jute Rug reimagines the well-loved zigzag design. Different sizes are available. See them here at Ruggable.
Harlequin Trellis Redwood Re-Jute Rug
Warm-up any space with the Harlequin Trellis Redwood Re-jute Rug. Rich shades of red, orange and brown blend together to create a striated backdrop, accented with a tan diamond pattern. Also available in the color "Natural Navy". Buy it here.
There you have it! 10 washable jute rugs to warm up your decor. Ruggable has really outdone themselves this time. These washable jute-style rugs offer that natural look you love with the ease of cleaning and sustainability. The Re-Jute rugs are an eco-friendly option for decorating and beautifying your home. With so many designs to choose from, finding one that fits your decor is easy. Happy decorating!
You May Also Like:
Pin This For Later!