10 Ways To Decorate With Natural Elements
If you want to learn how to decorate with natural elements without breaking the bank then your backyard is a great place to start.
There are so many natural elements in the outdoors that can be incorporated into our homes. From leaves to tree branches and pebbles, these items can be transformed into stunning home decor. The possibilities are endless! I put together this list of natural decor elements you can find right in your backyard.
If you're looking to score some natural home decor accessories for free then keep reading! Here's how you can shop your outdoor space for surprisingly beautiful natural decor. Plus some ideas to help you decorate with natural elements.
10 Natural Elements To Add To Your Decor!
**This page contains affiliate links. If you make a purchase through these links I will receive a small commission. See the full disclosure here.**
Stones, Pebbles & Rocks
Sources: Pinterest / Un Rinkon De Mi Mundo / Pink Cloud
One way to add natural elements to your decor is through the use of stones and pebbles. When I think of Stones and pebbles I think of a trickling stream or river. When I think of stones and pebbles indoors images of a relaxing spa come to mind. Bring some of that relaxing and spa vibes into your home by using these earthy gems as decorations. They're literally free! Collect them on your routine walk or on a day at the beach.
An easy way to display pebbles and stones in your home would be to add them to a glass bowl or a vase (be sure to wash them first). But there are so many creative options for decorating with stones inside the home. Try making a pebble coaster for your pots and pans like the image above or paint them to add a pop of color to your decor. Get creative!
Tree Branches and Twigs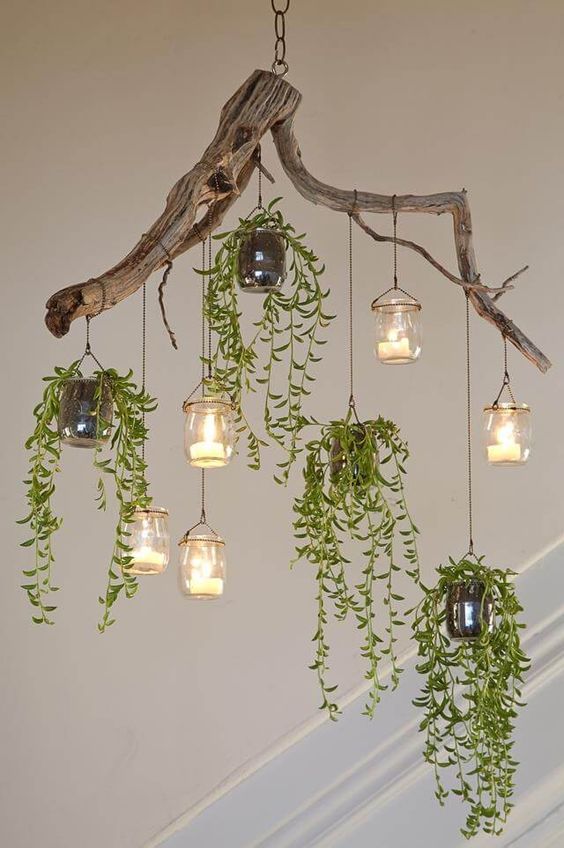 Sources: Pinterest / Sand & Sisal / Town & Country Living
Tree branches are popular interior decorations because they are free and there are so many interesting ways to use them in your interiors. When I think of decorating with natural elements tree branches and twigs are always at the forefront of my mind. You can gather them in your backyard (or your neighbor's backyard), or you can buy artificial ones on Amazon if you just like the look of them.
After that, you can use them as a pendant light or lanterns on them or use them as a centerpiece as seen above. Twigs and smaller branches can be used in a number of creative ways. Spray paint them and put them in vases or use them as an embellishment for your candle holders. Try sanding them down for a different look. Mount them on the wall and use them as a coat rack and so on.
Here are some examples that will help you to decorate your interior with natural tree branches:
Leaves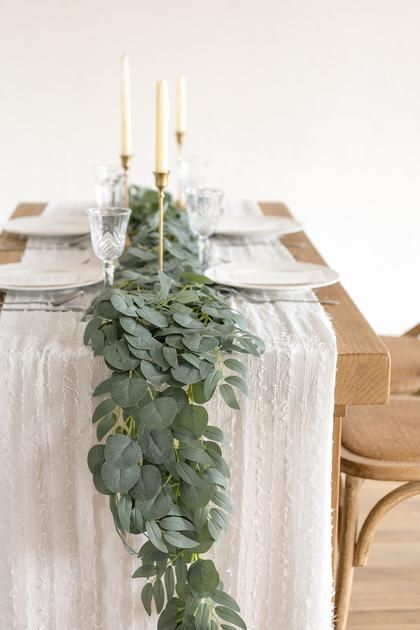 Source: Leaf Garland Centerpiece (Pinterest) / Pressed Leaf Art Better Homes & Gardens) / DIY Evergreen Candle Holder (Better Homes & Gardens)
Leaves and Leaf crafts aren't just for kids. And they're certainly not restricted to the fall decor either! There are many ways to use both fresh and fallen leaves in your home. Sure you can create Thanksgiving centerpieces, but you can also create a beautiful green and lush table runner, press them into a picture frame or stick them onto a candle holder. Take a walk outside and collect some of your favorite leaves, then get on Pinterest and get inspired!
Pinecones & Acorns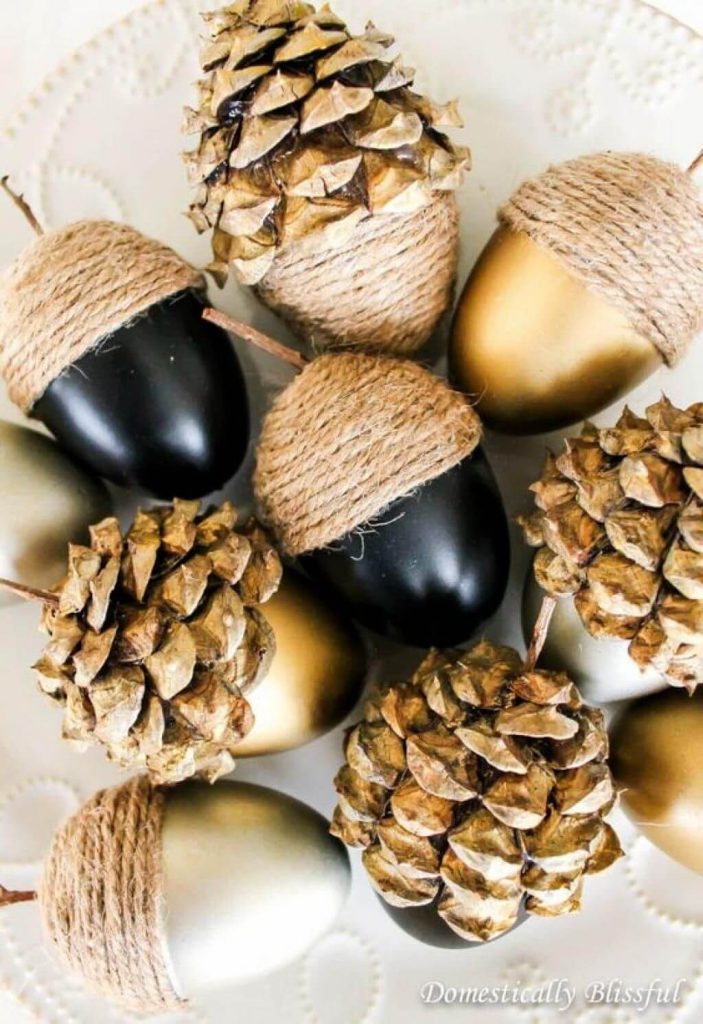 Source: Decorative Acorns – Domestically Blissful / Pinecone Wreath – Pinterest / Colorful Yarn Pinecone – Family Chic
If you're lucky enough to have a Pine tree near you and have an abundance of pinecones then you probably already incorporate them into your home. If not you can purchase them on Amazon. Pinecones are a traditional Christmas decoration with tons of DIY options. Add them to your Christmas wreath, or string them up to create a garland.
Acorns can be used in similar ways. Paint them and add embellishments for a statement piece. Place them inside a large jar, and add battery-operated string lights to create a warm, earthy lantern. Pinecones and acorns are perfect for rustic decorating and they both smell really great.
Flowers
Images: Pressed Wild Flowers In Picture Frame / Floral Wall Decor / Test Tube Floral Arrangement.
Flowers are an obvious choice for adding a piece of nature to your home. Using flowers as decorations in your home can significantly improve the atmosphere in your home. But they can be expensive If you choose to purchase them often.
Try wildflowers found outside or in the park instead. Arrange them in a pretty vase and place them on your countertops. Hang them on walls for a beautiful boho, floral decal. Or press them into a glass frame to put on display.
Placing flowers around a room where you can see them has the ability to improve your mood. A little color goes a long way!
Decorate With Seashells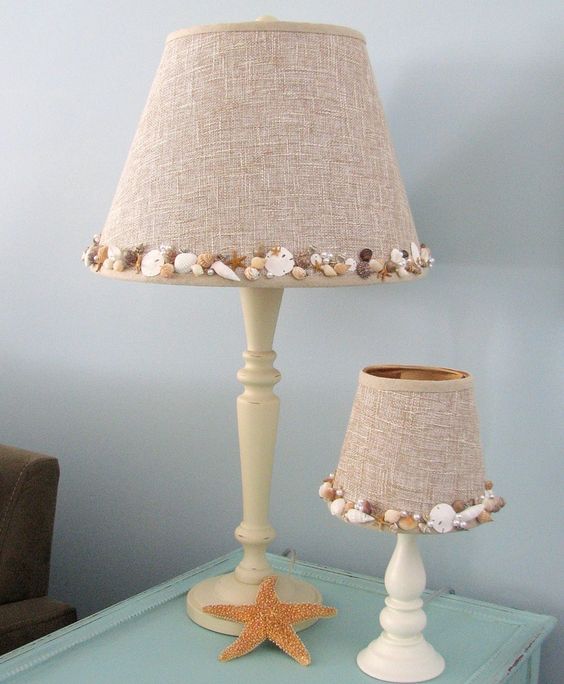 Images: Seashell lampshade – Pinterest / Seashel Windchime – eHow / Seashell Candle – Pinterest.
There's nothing better than bringing a breath of the ocean home from a day at the beach. There's something special about stumbling upon a seashell, starfish or urchins as you're walking along the water. But most of us just put them all into bowls and decorate coffee tables or mantels with them. Other times they get tucked away somewhere never to be found again.
There are so many decorative creations to try using these shells. Use them as embellishments for existing home items. Create a seashell wind chime or add them to your candle holder. The options are endless. Don't forget to walk with an extra baggie for collecting seashells on your next beach trip.
Driftwood Decor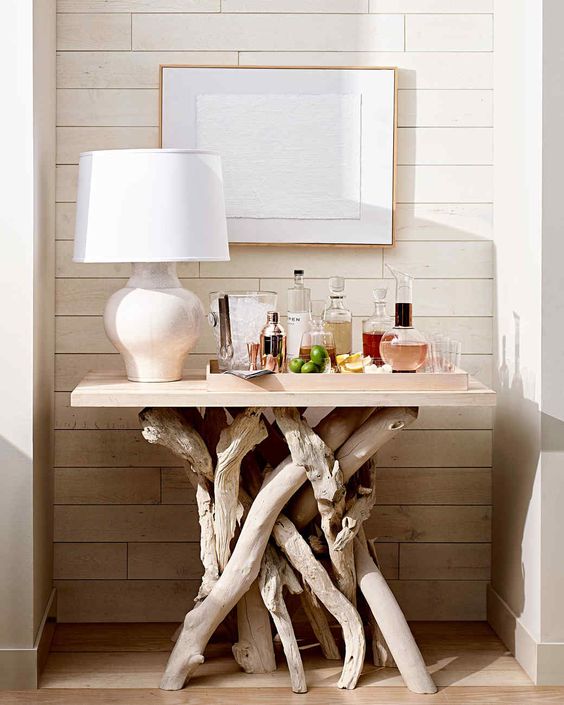 Images Driftwood Bar Table (DigsDigs) / Driftwood Picture Frame (My Desired Home) / Driftwood Wall Shelf (My Desired Home)
Driftwood Decor conjures images of sun, sand and freedom during those summer vacations and days spent on the beach. Like many of the natural elements mentioned above, driftwood can be transformed into almost any type of decor accessory. Including furniture! Check out my other post: Driftwood Furniture Ideas to see how this material is used to create unique and stunning furniture.
Consider a table that consists of a driftwood base and a wooden or glass surface. Or what about a driftwood wall shelf? That driftwood picture frame above is wonderfully rustic and easy to DIY. If organic and rustic decor is your thing, you'll have a lot of fun with this driftwood.
Decorate With Fruit
Images: Dried Citrus Garland / Orange Bouquet – Southern State Of Mind / Lemon & Lime Vase Centerpiece – She Knows
Just like flowers, fruits can be a wonderful way of adding the flavor of the season to your home. Whether you live in a loft in the city or a lavish residence in the countryside, fresh fruit adds a sense of uniqueness to every space. Not to mention the beautiful aroma. Often times all they need is a lovely fruit bowl and a perfect backdrop that accentuates their presence. But there are ways to get creative with fruit in the home. That dried citrus garland is my absolute favorite because of the sheer creativity involved. These decor items may not last very long but they will certainly leave people talking for while.
Fresh & Dried Grass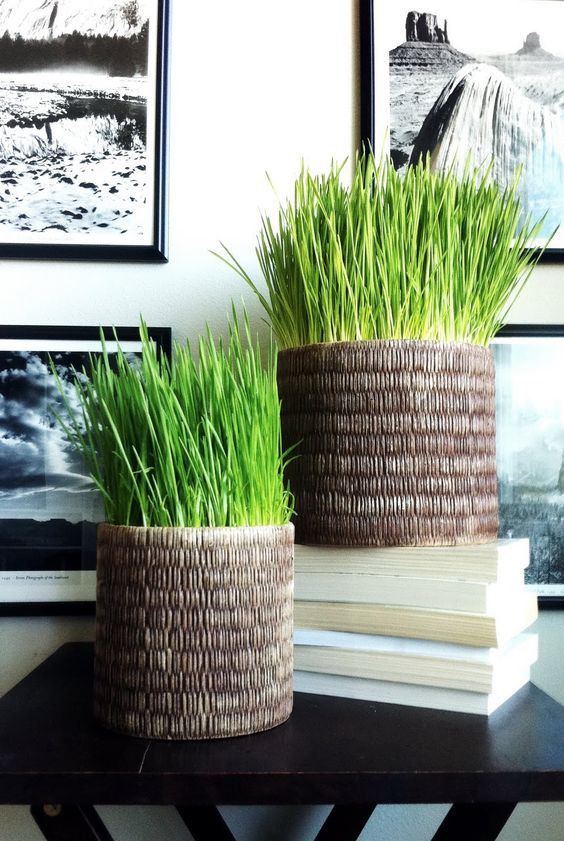 Images: Wheatgrass potted plant / Dried Pampas Grass / Rustic Grass Centerpiece
When you think of indoor plants, the last thing that comes to mind is grass. But this overlooked flower has become a popular addition to interior decorating, exuding vibrant green hues and inspiring sunny sensibilities.
Dried grass is all the rave these days. Who would've thought? Pampas grass—also known by its scientific name, Cortaderia selloana—is the newest (and most surprising) trend. These gorgeous waving wheat-toned grasses are warm, minimalistic, and full of texture. Best of all they can be paired with any decor pallet.
Plants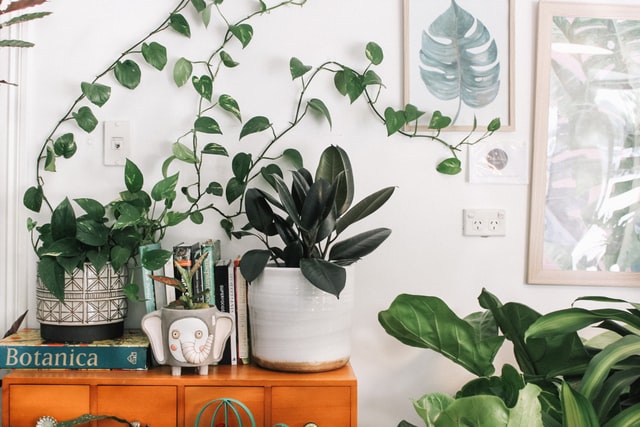 When you think of ways to decorate with nature plants are an obvious choice. But plants can be expensive if you want them fully grown. Luckily, there are a variety of ways to fill your life with plants without breaking the bank.
Here are some ways to get free (or cheap) plants:
Through cuttings – Get these from your own outdoor plants or ask your friends or neighbors for cuttings of their plants. You can propagate them as many times as you want.
Plant rescue – Take those dying plants off your friends or family's hands and commit to nursing them back to life. A lot of people would be willing to part with dying plants.
Seeds – buying seeds is the cheapest way to start your green thumb journey but does require some patience.
There you have it. Ten ways to decorate with natural elements! Decorating with nature doesn't have to cost you a fortune. There are so many opportunities to create a more natural and earthy home without spending a dime. Shop your outdoors for the most organic materials and transform them into decor accessories.
I hope you were inspired by these natural decor ideas! And I hope you'll use it as a starting point for creating a nature-inspired home. It doesn't matter which items you use, just keep searching for ways to be closer to nature.
Adding natural elements to your home is one of the best things you can do for your mental and emotional health. You won't regret it and your wallet will thank you for it!
I hope this gave you some ideas on how to decorate with natural elements. Happy decorating!
Want More Natural Home Decor Ideas?
Pin This For Later!