16 Rattan Accent Chair Favorites You Must See!
If you're looking for a stylish rattan accent chair then boy do I have a treat for you! I rounded up 16 affordable rattan accent chair favorites for you to consider.
Let's face it, the rattan furniture trend is still going strong with no signs of slowing down… and I'm here for it! Rattan pieces are a staple item for natural decor lovers and are one of the easiest decor elements to incorporate. Whether it be furniture or accessories, rattan will ad warmth and charm to any decor.
With more and more people moving towards sustainable, and organic materials to fill their homes, rattan furniture remains a popular choice. Its laid-back, neutral colors play nicely with other furniture styles and decor pallets. The material is strong and sturdy, making it a sustainable option for furniture and accessories
Rattan Accent chairs have moved beyond the traditional patio furniture and can now be found in almost every element in interior decor. Modern pieces feature mixed materials like wood, bamboo, and woven cane. I incorporated all of these into this list! Here are 16 stunning rattan accent chairs to consider.
**This page contains affiliate links. If you make a purchase through these links I may receive a small commission at no extra cost to you. See the full disclosure here.**
16 Stunning Rattan Accent Chairs To Warm Up Your Decor!
Aya Modern and Contemporary Natural Finished Rattan Armchair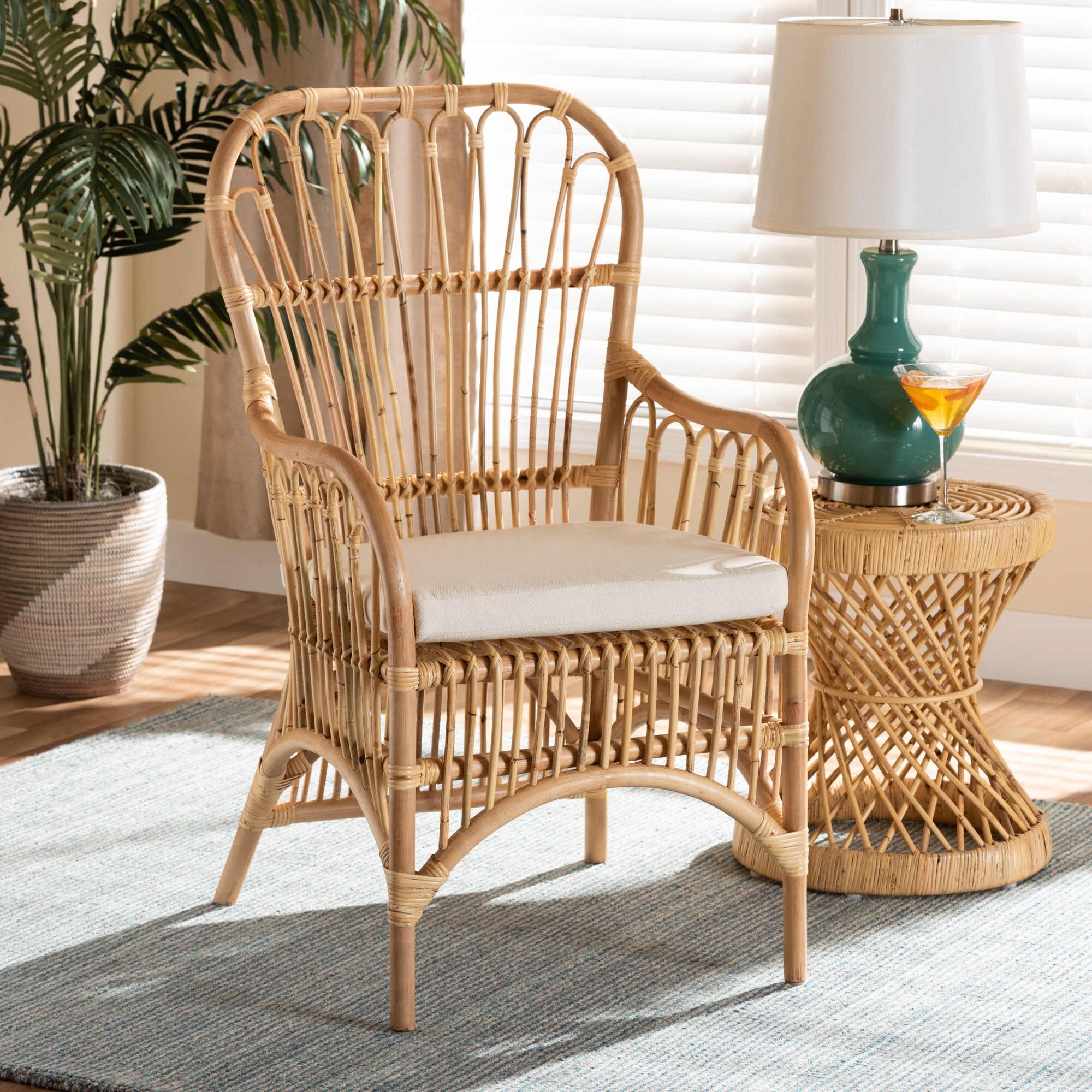 The Aya Rattan Armchair blends retro with modern contemporary style to create an inviting and beautiful piece. This accent chair is made from natural rattan and features a curved backrest and armrests with an eye-catching spindle design that allows light to travel freely throughout the room. This armchair is perfect for those who appreciate modern design and natural materials. BUY IT HERE at Overstock.
Kouboo Round Rattan Loop Armhair
Take a load off in this exquisitely crafted Round Rattan Loop Armchair. The free-flowing lines are a reminder of nature's floral beauty all around us. The Natural color tones of this chair will add warmth to any room of your home. The seat cushion is included! BUY IT HERE on Amazon
Delphine Upholstered Cane Accent Chair with Rattan Arms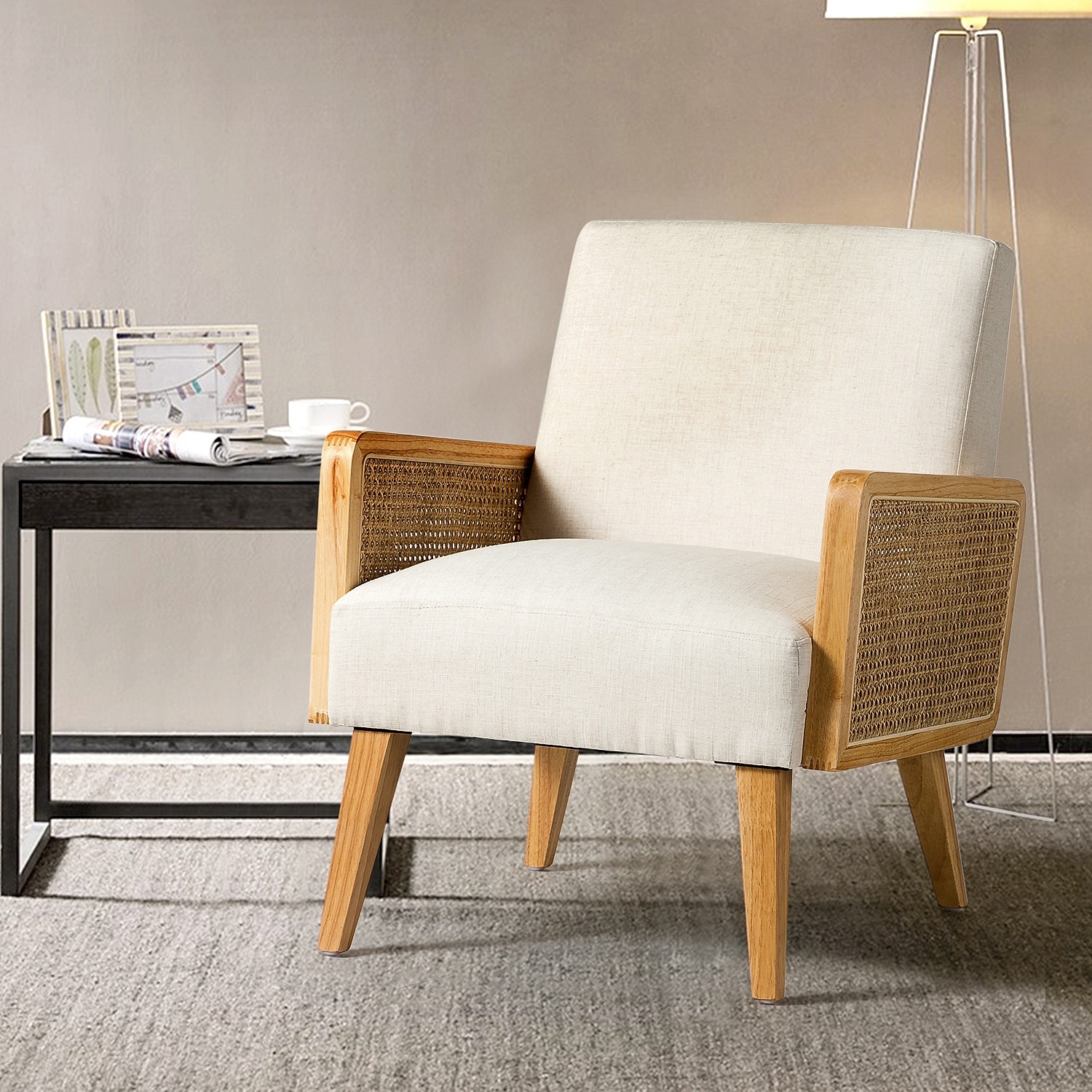 The Delphine Cane Accent Chair brings together a stunning, handcrafted rattan construction with solid wood to create a natural and comfortable space. This natural accent chair will have no problem blending into your home decor with its modern style and warm tones. It's the perfect pick for the living room and bedroom. BUY IT HERE at Overstock.
Akila Swivel Chair
Furniture or art?… You decide. The sculptural Akila Rattan Swivel Chair offers a dynamic style and amazing comfort. Sink into the soft upholstered cushions and curvy shape that seem to cradle the body. This rattan accent chair is the perfect start to your new favorite cozy corner. BUY IT HERE on Lulu & Georgia.
Art-Leon Woven Cane & Velvet Accent Chair
The Art-Leon Woven Cane Accent Chair is a classic addition to any setting. Blending handcrafted rattan arm construction with solid oak wood and zinc alloy foot cap makes this chair sturdy and stylish. The generous velvet cushioned seat and back make it ideal for relaxing in any natural setting. The elegant design and mid-century style make this chair a must-have for any home. BUY IT HERE at Overstock.
Kouboo Rattan Loop Lounge Chair with Seat and Head Cushion
The Kouboo Rattan Lounge Chair is a great accent piece for the living room, bedroom, or screened porch. The soft seat and head cushion bring added comfort for relaxing. With simple Rattan construction, this chair is sturdy and stylish. BUY IT HERE On Amazon.
Criss Arm Loveseat – Linen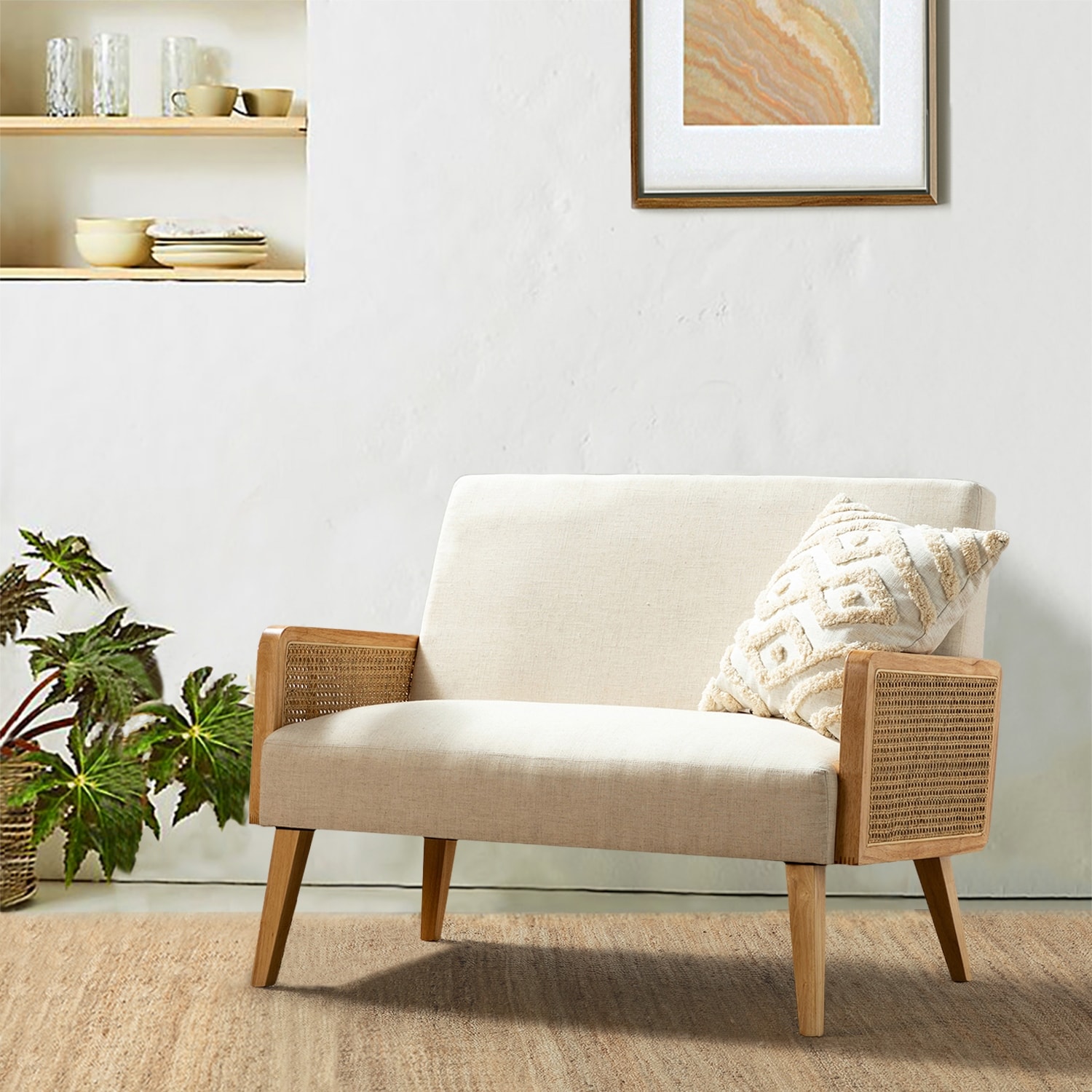 The Criss Arm Loveseat combines stunning rattan with solid wood to create a natural and modern design. Its distinctive design showcases an openwork construction for an open and airy feel. This loveseat will blend nicely with any decor pallet. BUY IT HERE at Overstock.
Celann Natural Finish Fabric Cane Accent Chair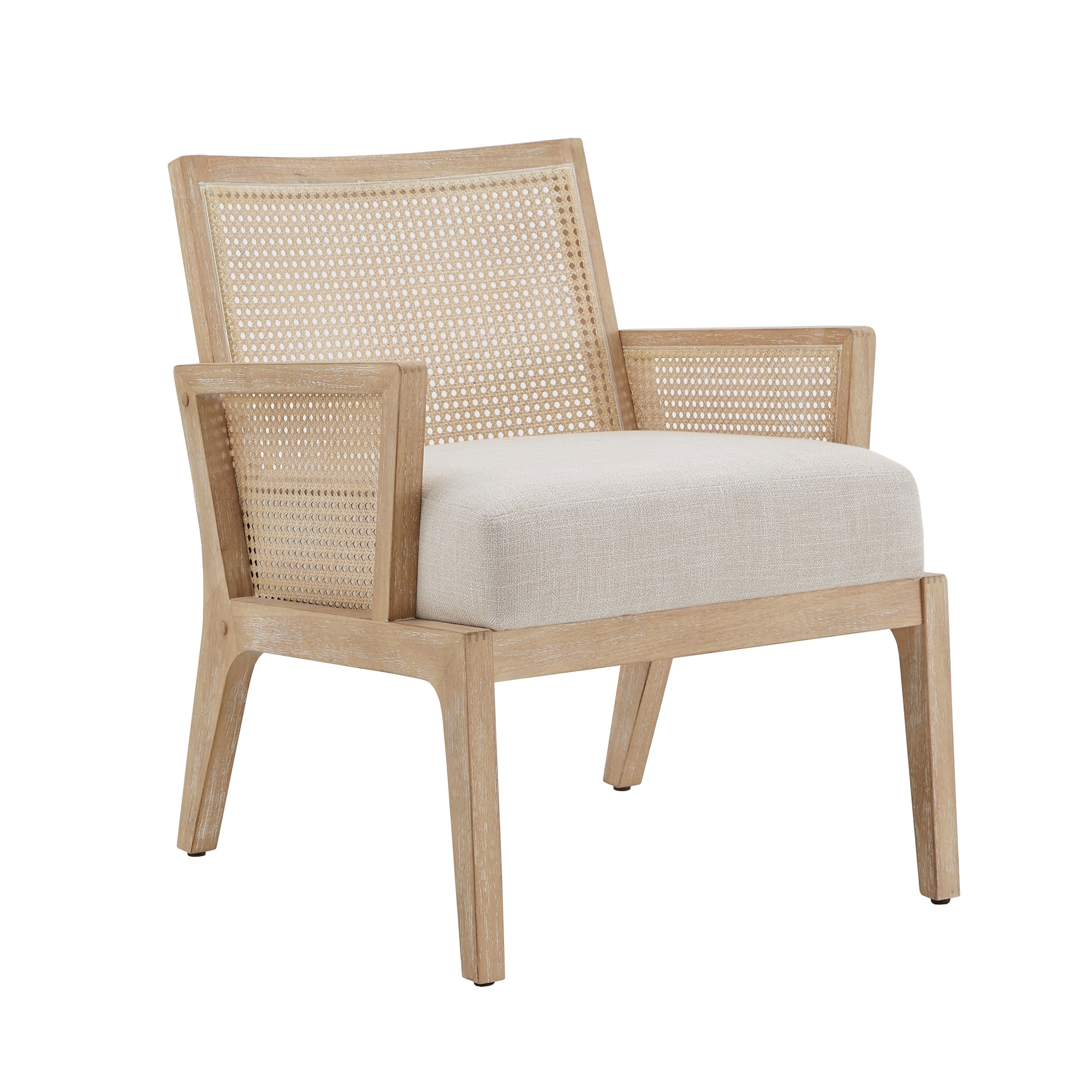 Create a warm and inviting space with the Celann Natural Cane Accent Chair by iNSPIRE Q Modern. This charming piece offers bohemian vibes with its rattan construction, antique natural wood grain finish, and beige fabric. BUY IT HERE at Overstock.
Omni Transitional Coastal Rattan Barrel Chair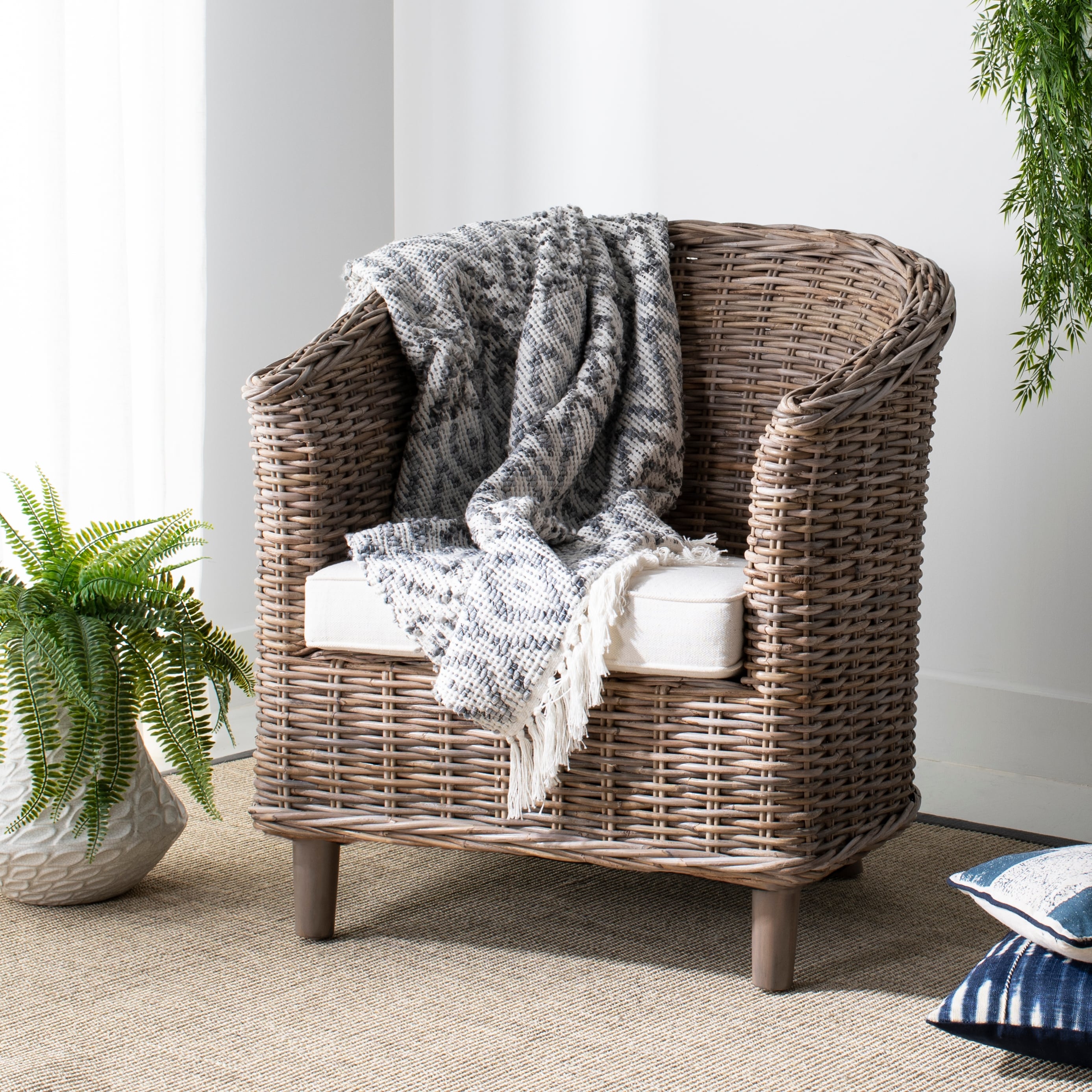 Relax and unwind after a long day in this Coastal Rattan Barrel Chair. This transitional-style accent chair is made with mango wood and rattan material and comes with a comfortable white cushion. BUY IT HERE at Overstock.
Charley Accent Chair
With a beautiful, feminine shape and sloping back, the Charley Rattan Chair offers a touch of rustic elegance in a space. GET IT HERE at Lulu & Georgia.
Tara Rattan Lounge Chair

Tara Rattan Lounge Chair – $795
from:
The Citizenry
Laid-back, bohemian rattan meets sculptural design in this modern accent chair. As comfortable as it is handsome, this piece is designed with a rounded, extra lounge-y frame and plush cotton cushion – the perfect kick-back-and-relax companion. Handcrafted with locally sourced Manau rattan, this lightweight, yet durable material has been used for generations in Indonesia. BUY IT HERE at The Citizenry. Check out my woven storage basket roundup from The Citizenry.
Summer Cane Dining/ Accent Chair
Using traditional elements, this chair retains a modern look with a caned back and clean, sloping lines. Style around your dining table for a more relaxed look, or use as an accent chair in your living room or bedroom. BUY IT HERE at Lulu & Georgia.
SAFAVIEH Couture Auckland Rattan Dining Chai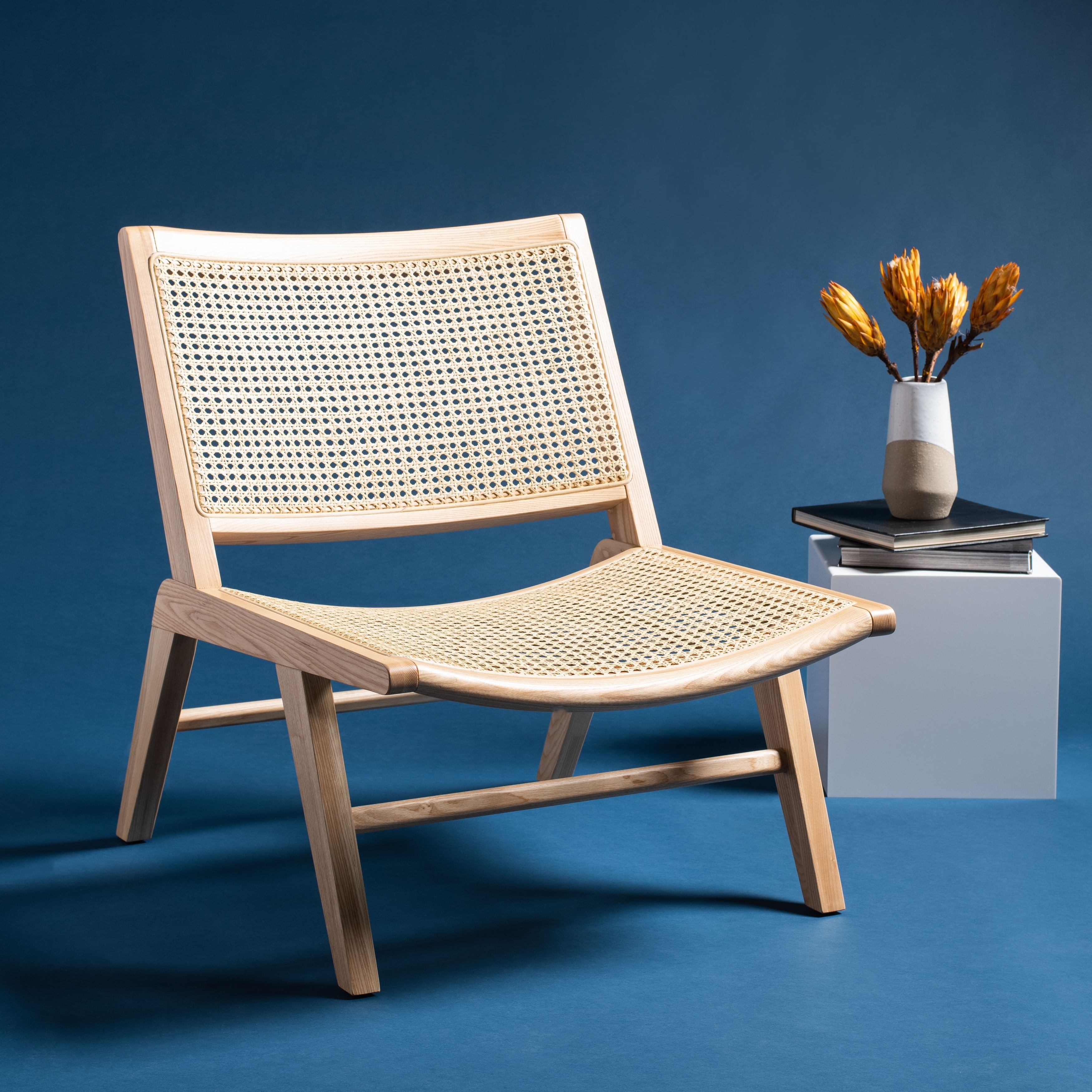 This chic Auckland Accent Chair is a modern decor icon, effortlessly blending comfort and a rich couture aesthetic. Ideal for creating a coastal-cool dining setting, Auckland's natural rattan seat and back are smartly juxtaposed against a crisp black wood frame, embodying exemplary contemporary elegance. BUY IT HERE at Overstock
Jakarta Rattan Dining / Accent Chair

Jakarta Rattan Dining Chair
from:
The Citizenry
The Jakarta Rattan Dining Chair has it all. Hand-braided details. Warm, organic texture and constructed using lightweight, durable rattan. THis piece will add boho vibes to any room without adding too much visual weight. The best part? Handcrafted by master artisans in Cirebon, Indonesia, each chair takes almost two days to complete. All made start-to-finish in a fair trade environment. BUY IT HERE at The Citizenry.
Sonia Modern and Contemporary Natural Finished Rattan Armchair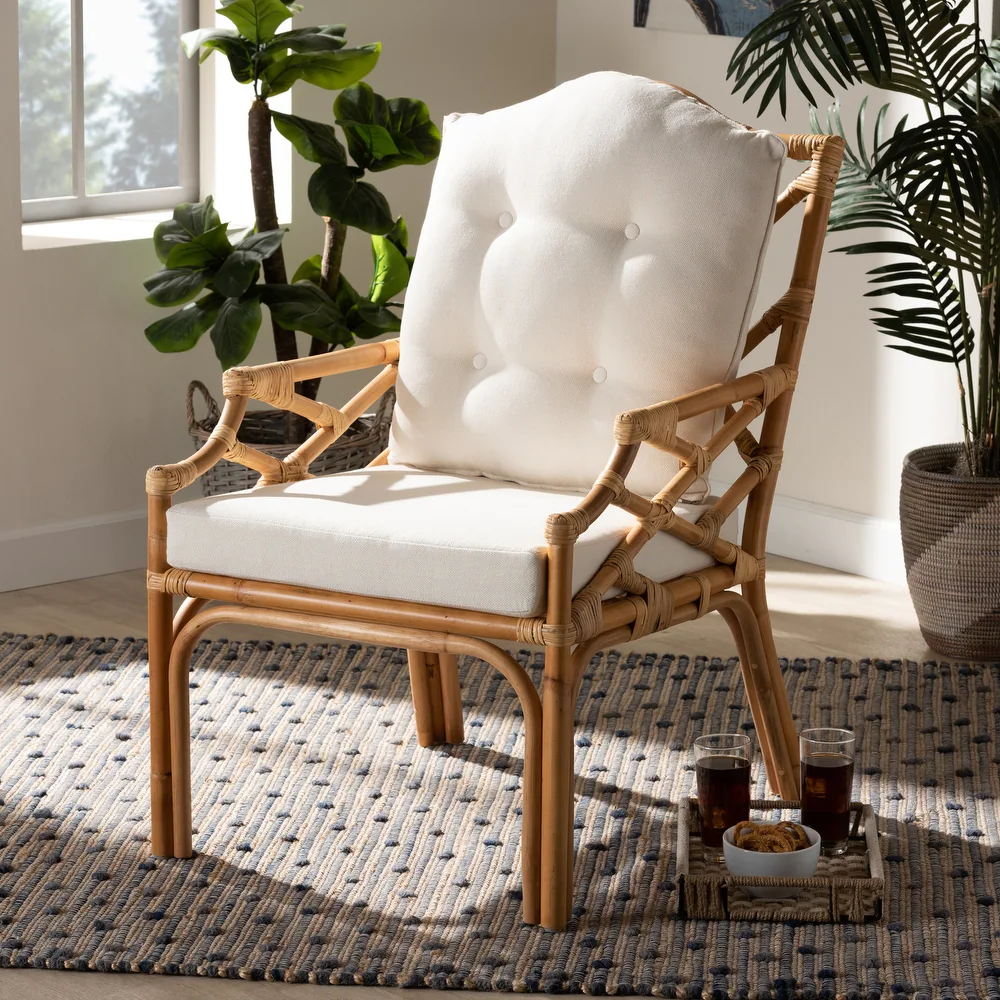 Elegant comfort is paired with tropical design to create the splendid Sonia Armchair. Handmade in Indonesia, this chair is comprised of natural rattan. A sleek, angular design that adds geometric appeal to any space. BUY IT HERE at Overstock.
Venice Rattan Chair
The Venice Rattan Chair's solid rattan base features hand-wrapped natural rattan accents. This chair works indoors as well as outdoors, delivering versatile styling options. BUY IT HERE on Amazon.
You May Also Like:
Pin This For Later!