14 Natural Woven Bedroom Benches You'll Love.
Lately, I've been on the hunt for a natural woven bedroom bench. I'm thinking this would be a perfect addition to my bedroom.
These days it seems like when you open up your Instagram, scroll through Pinterest, one design trend keeps popping up: Woven Decor.
Interior design trends come and go, but there are some trends that always make their way back around. Some remain constant and this year woven decor is definitely having its moment.
Woven cane, wicker, rattan, and leather furniture are on the hot list and, I am not mad at it. As a natural and earthy decor lover, these pieces never go out of style for me. I'm often drawn to textural, organic, and warm-toned accents and woven furniture check all the boxes for me.
If you are looking for the perfect natural woven bedroom bench, then stick around. I compiled 14 stunning woven benches for you to consider. You're going to love these!
**This page contains affiliate links. If you make a purchase through these links I will receive a small commission. See the full disclosure here.**
14 Stunning Natural Woven Bedroom Benches You'll Love!
Bandelier Wood and Leather Bench – Off White/Light Oak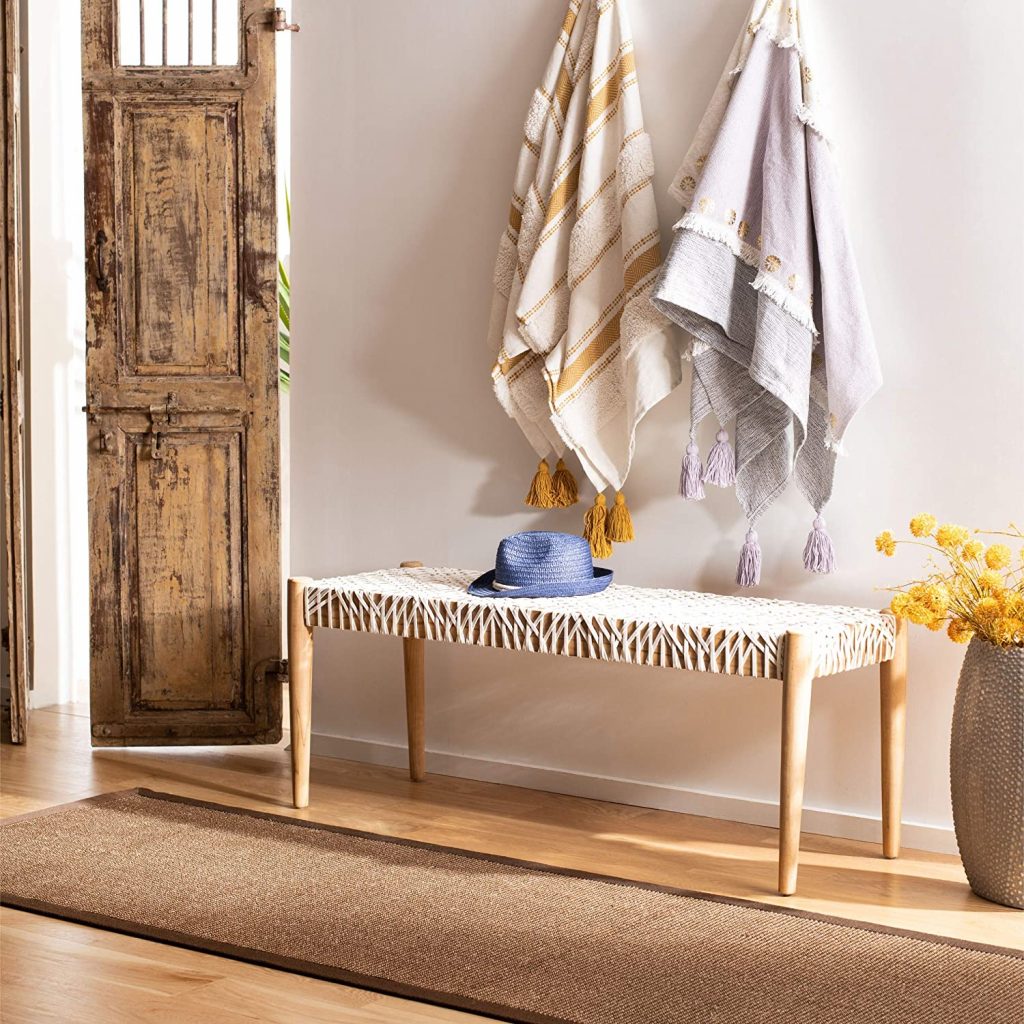 Price: $369.91 On Overstock
Streamlined artistry and timeless design get a classic showcase in this crisp and charming bench. Inspired by the resorts of the Swiss Alps, the solid teak construction and woven cowhide upholstery make for an elegant nod to rustic sensibilities. Make a splash in any space with this sleek and artful bench.
Bengal Manor Mango Wood and Jute Yarn Woven Bench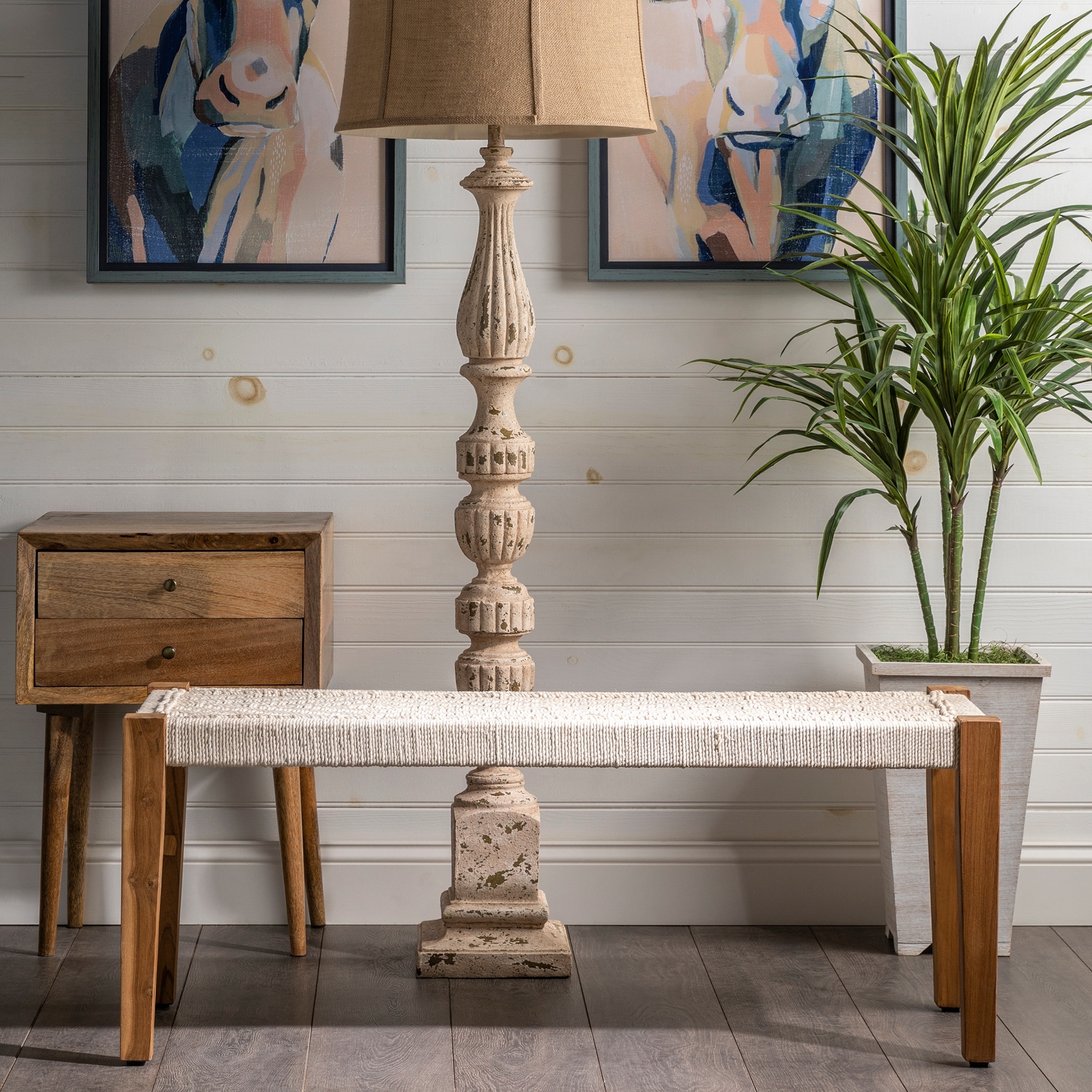 You may call it a bench, but we like to think of it as an accent piece. The Bengali Manor Bench is made from solid mango wood and high-quality jute yarn that is handcrafted in India. This transitional bench could easily work in many home décor schemes to include Coastal, Bohemian, and Farmhouse styles.
Couture Dilan Leather Woven Bench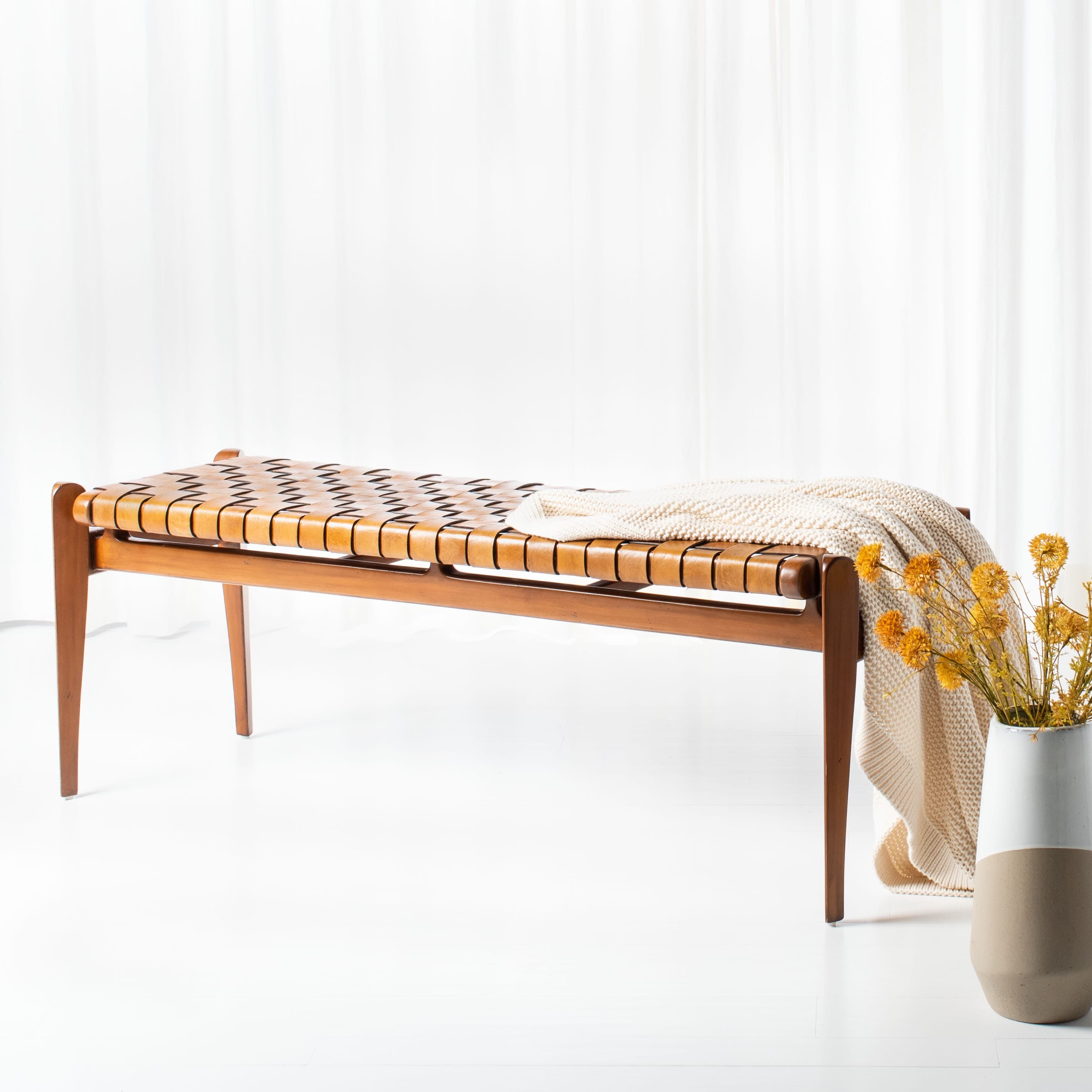 Price: $595.49 On Overstock
The Couture Dilan Leather Bench is a chic, boho-inspired bench with soft leather details. This versatile piece will look great in any room of your home, from the entryway to the bedroom. It features elegant mahogany wood legs and a woven top-grain leather seat for coziness and durability. Choose from white or brown leather to match your boho decor.
Kellington Coastal Natural Woven Fiber Bench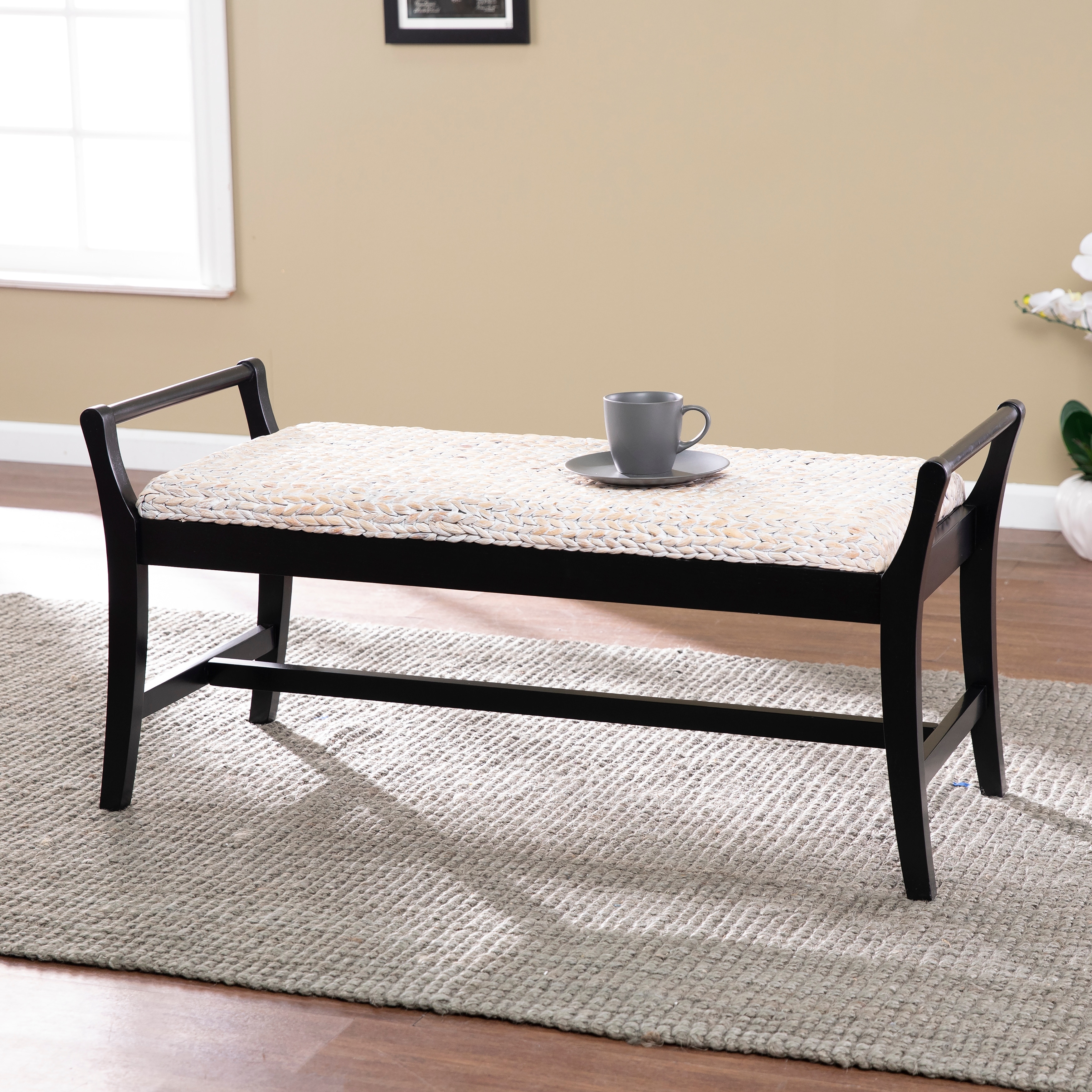 The Kellington Coastal Hyacinth Bench is a contemporary and modern bench that features clean lines and a minimalist design. The bench is constructed with whitewashed natural fibers and a black pine and rubberwood frame. The design elements of the bench bring together classic coastal staples that will enhance the decor in any space.
Price: – $266.49 on Overstock
Kauri Global Jute Woven Bench
Price: See Updated Price Here on Amazon
The Kauri Global Jute Woven Bench features a compelling global-inspired design brimming with elegance and grace! Made with woven jute and wood in India, this piece will add rustic charm and warmth to any room! See more from Artistic Weavers.
Lana Woven White Stool

Lana Woven White Stool
from:
Winnoby
Price: $319.00 At Winnoby Home
A simple and versatile stool designed to add a touch of nature to your home decor. This handmade piece features a textural rattan seat and solid Mango wood frame that complements an array of different color palettes. Rattan and wood come together to create a beautiful piece that will last for years.
Braided Palm & Wooden Bench

San Pedro Woven Bench
Price: $1,195 – At The Citizenry
A bench that's a true study in contrasts, with its rich wood grain and hand-braided palm seat. Handcrafted from start to finish in Mexico.
Sustainable, beautiful, and perfect anywhere you put it. This bench is a modern upgrade to the classic entryway or foot-of-bed staple. The contrast of the rich parota wood (a material known for its sustainability) against the hand-braided palm center is a sight to behold – light and dark, smooth and textured. In essence, this bench does all of the design heavy lifting wherever it goes.
Handcrafted and handwoven by a cooperative of 70 artisans outside Guadalajara, Mexico, each bench takes days to complete. Made start-to-finish in a fair trade environment.
VidaXL Rattan Bench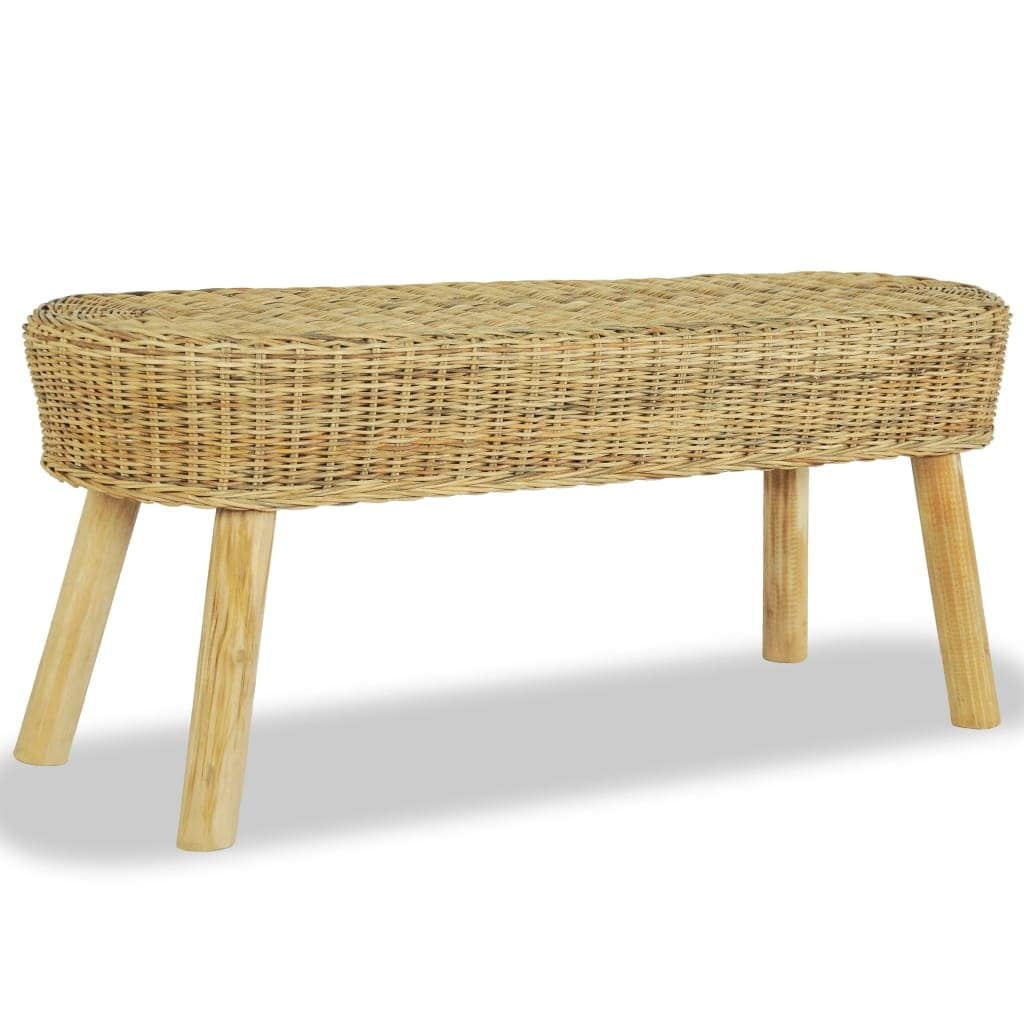 Price: $130.99 At Overstock
Looking to add some rustic charm to your bedroom? Then this rattan bench is the way to do I. It's Labeled as a hall and dining bench, but this piece can easily find its home at the foot of a bed. It features woven rattan seating and is supported by solid teak legs. This attractive handwoven bench is sturdy and durable. Assembly is really easy.
Woven Banana Leaf Bedroom Bench in Amber and Honey
Price: See Updated Price Here On Amazon
This storage bench is proof that a bench can be stylish as well as practical. It's constructed of solid wood and select woven materials that mesh well together. Finished with an amber-colored touch, it goes well with other rustic decors. The lid opens to spacious storage that accommodates everything from a comforter to old leather-bound novels. This banana leaf bedroom bench conveys a modern country style that's sure to please.
East at Main Naomi Bench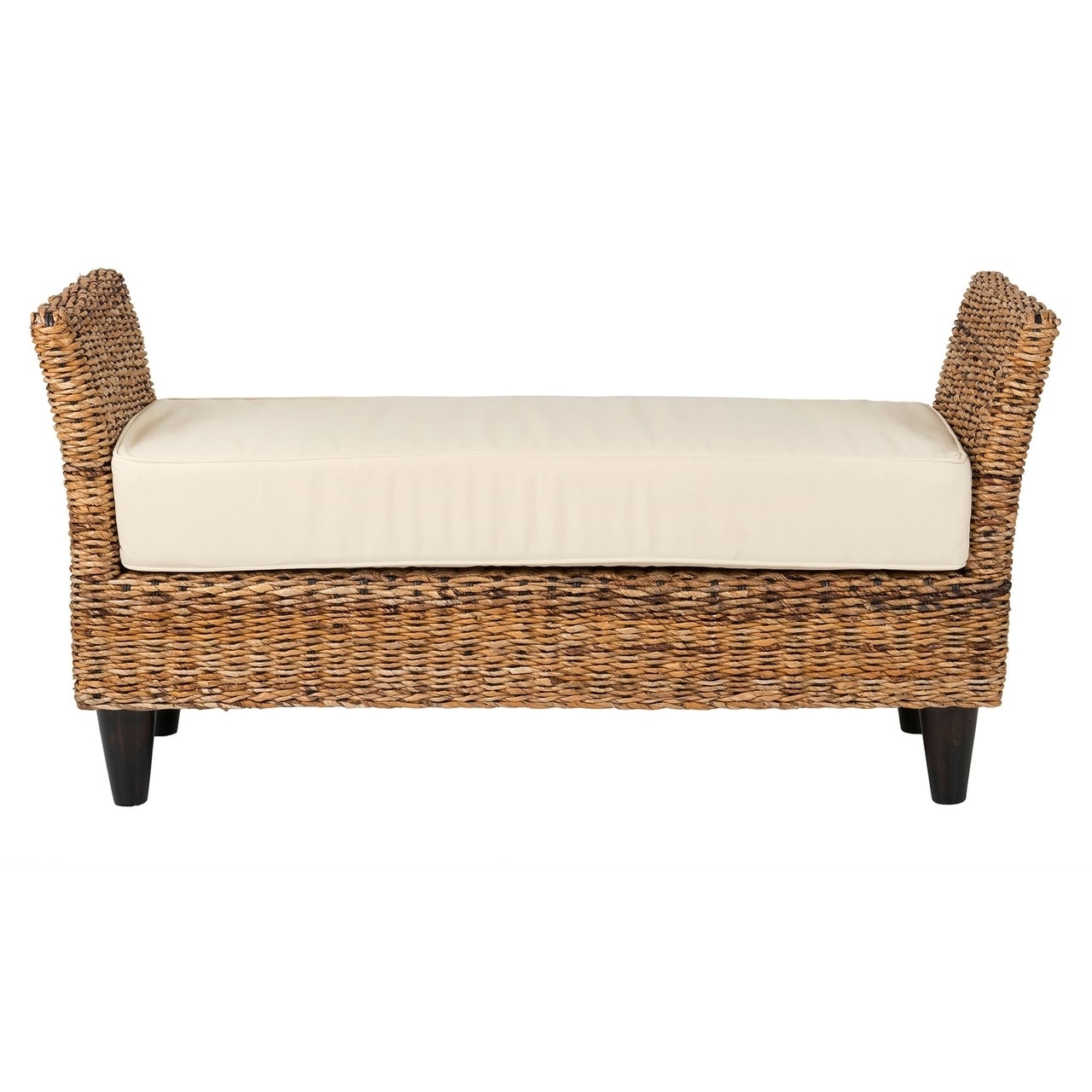 Price: $377.49 At Overstock
Made with handwoven abaca leaves and paired with a cotton-blend cushion this woven bench is comfortable and durable. This bench will bring sophisticated boho style and texture to your bedroom decor.
Enchanted Acre 40-inch Wood Bench with Rush Seat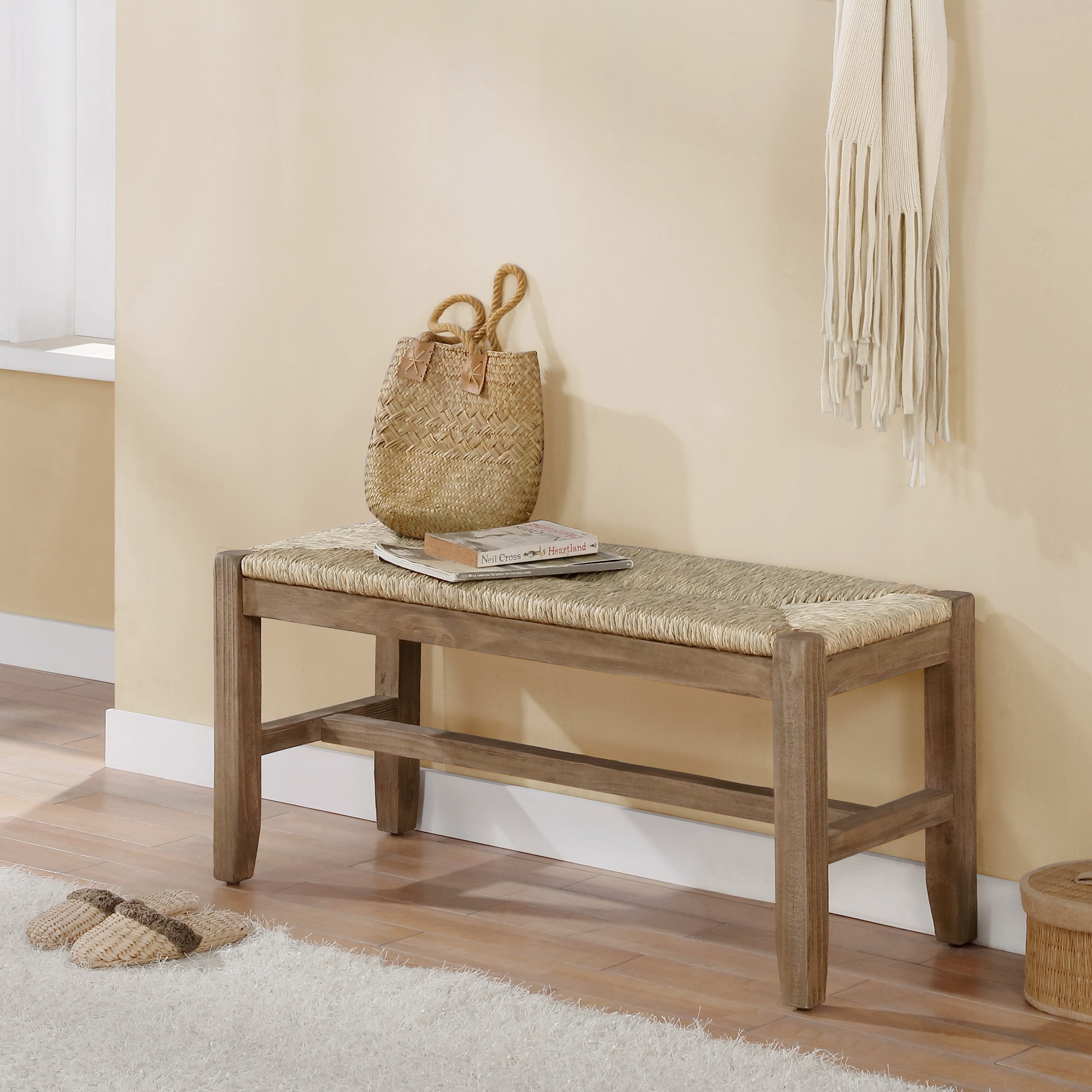 Price: $149.99 – At Overstock
Another stylish rustic piece!. This woven bench was made with a seagrass, rush seat, and light amber wood for a modern mix. The clean lines and mixed materials make this piece perfect for a rustic industrial style.
Amalia Cowhide Bench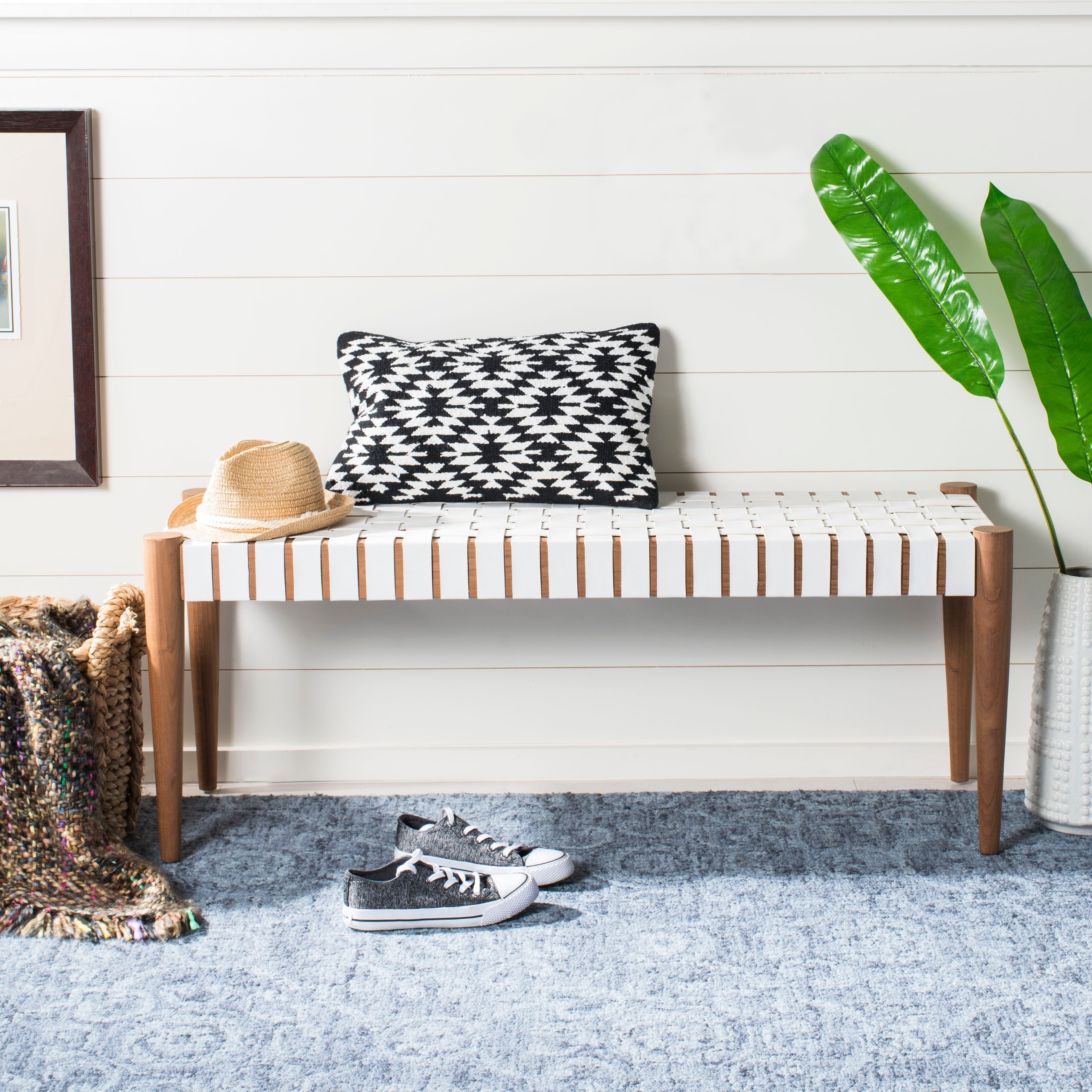 Price: $309.99 – At Overstock
Created in Indonesia, the Amalia woven leather creates an eye-catching display that pairs beautifully with a mindi wood frame. This stunning piece adds a sleek and modern twist to woven furniture.
Gainford Transitional Black Woven Fiber Bench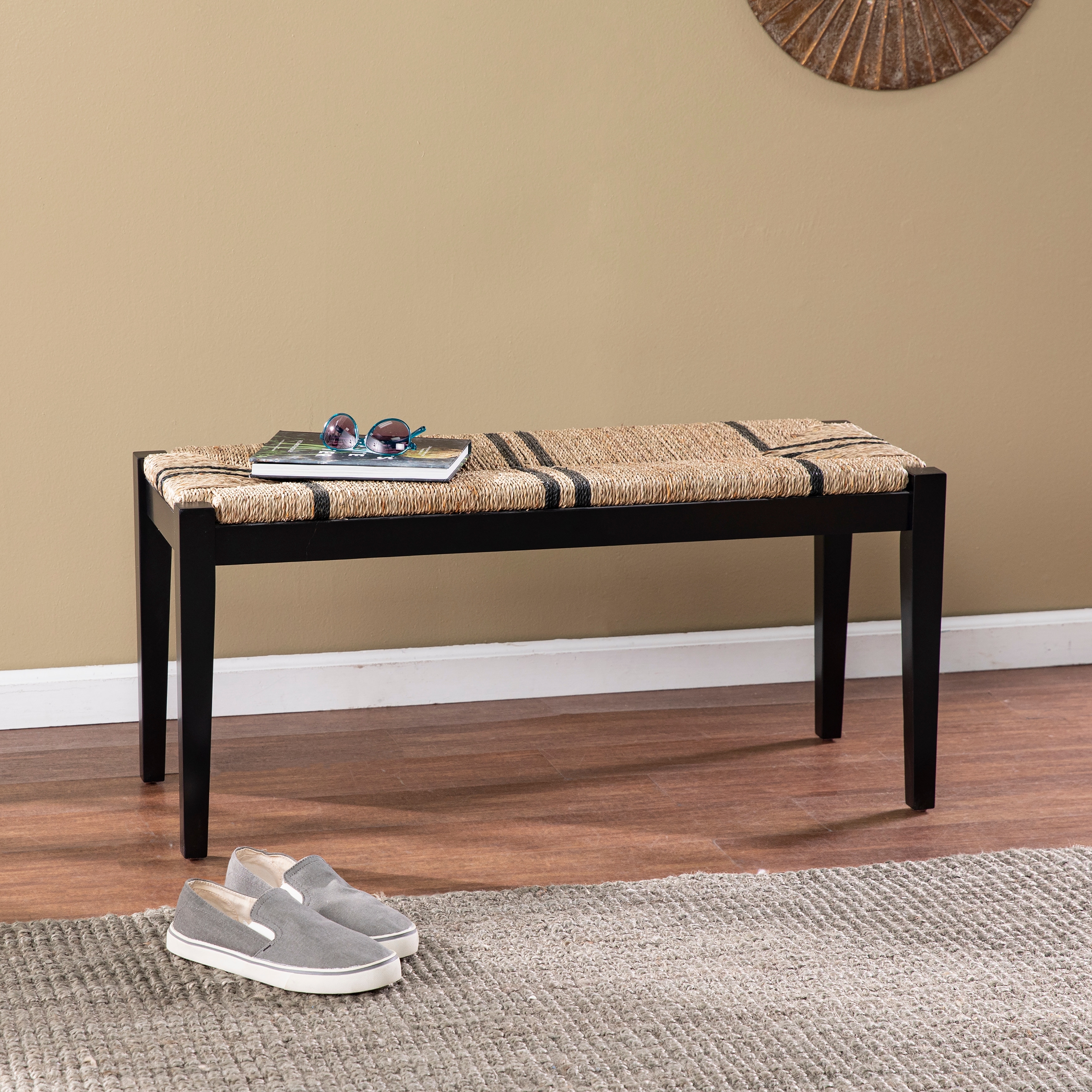 Price: $251.99 – At Overstock
Offer the perfect seating to your bedroom with this versatile bench. Natural seagrass weaves a contrasting design while the black wood frame creates a sleek, modern feel. Place at the foot of your bed for an accent piece, or slide up to your dining table when entertaining guests. A small-space-friendly design with a two-tone transitional style.
Granger Woven Bench
Price: $649 at Lulu & Georgia
This is the perfect natural woven bedroom bench! The Granger Woven Bench is the has a solid wood frame in a gorgeous mahogany finish that's sure to stand the test of time. With its unique rope-style detailing and rustic finish, this wooden bench makes a chic home decor accent.