16 Plant-Filled Bathroom Decor Ideas + 12 Plants That Work!
If you're looking to turn your bathroom into a jungle oasis then stick around. I compiled a list of gorgeous plant-filled bathroom ideas to get you inspired!
Plants not only purify the air, but they also provide some serious style. Beautiful greenery is always welcome in just about any room, but there's something about a plant-filled bathroom that makes bathtime that much more special.
These leafy accessories help relieve stress and anxiety and create a calm, serene space to help you unwind after a long day. If you want to turn your bathroom into a place of relaxation plants are a great way to start.
Two or three plants here and there in your bathroom will certainly transform your bathroom, but if you're looking to kick it up a notch then this list is for you. I put together 16 plant-filled bathroom ideas for those of us who love being a little EXTRA!
These bathrooms go all out to create a beautiful jungle oasis, making bath time the best time! You're gonna love these!
Plant Filled Bathroom Inspo For Those With Jungle Fever!
Add Trailing Plants For Big Impact
Hang Plants Them From The Ceiling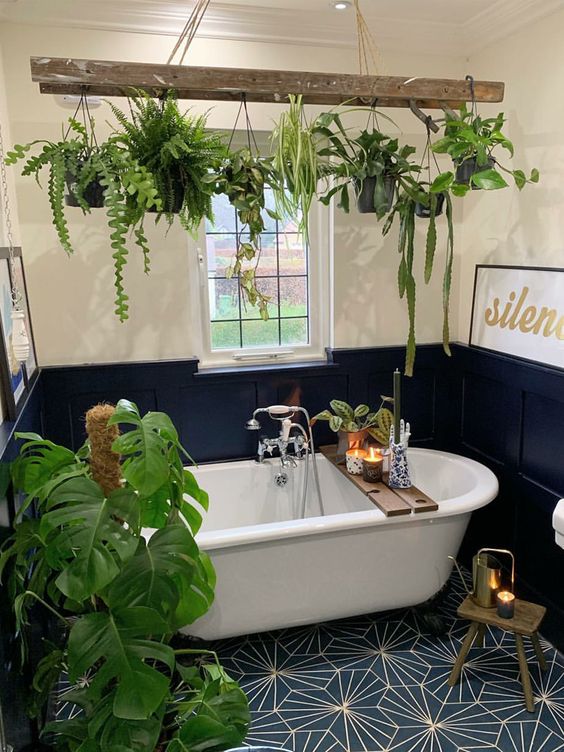 Image: via Pinterest – Source @Comedowntothewoods
Add A Plant Shelf Near Your Bathroom Window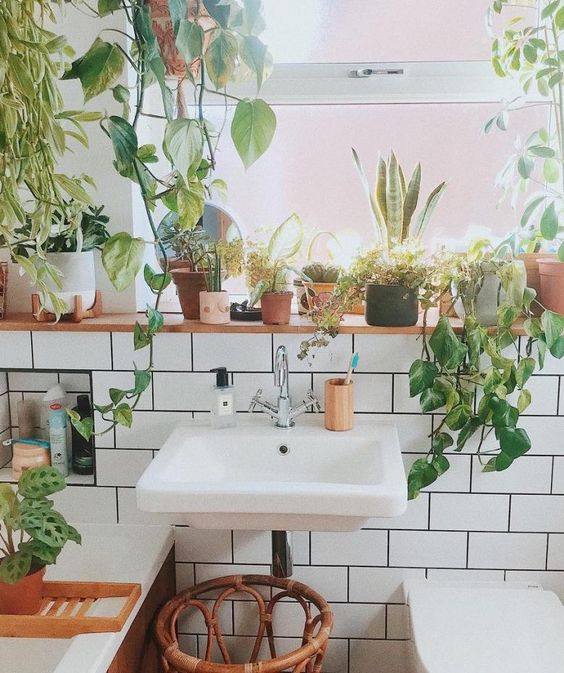 Image: Via Pinterest – Source: @emilyjanelathan
Dark & Moody Plant-Filled Bathroom Decor
Use Every Inch Of Space For Plants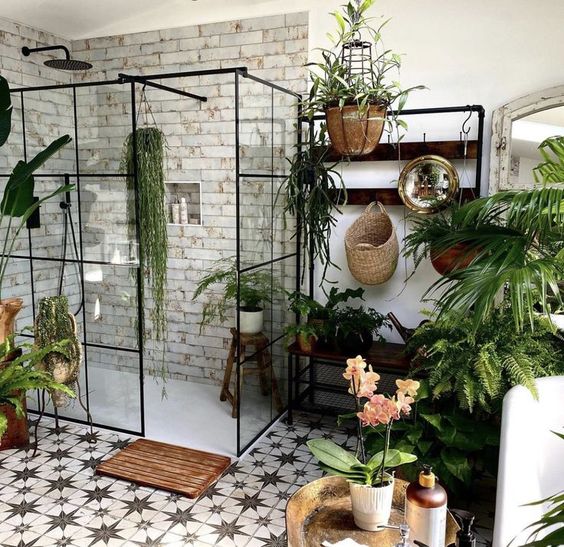 Add A Shelf For Your Hanging Plants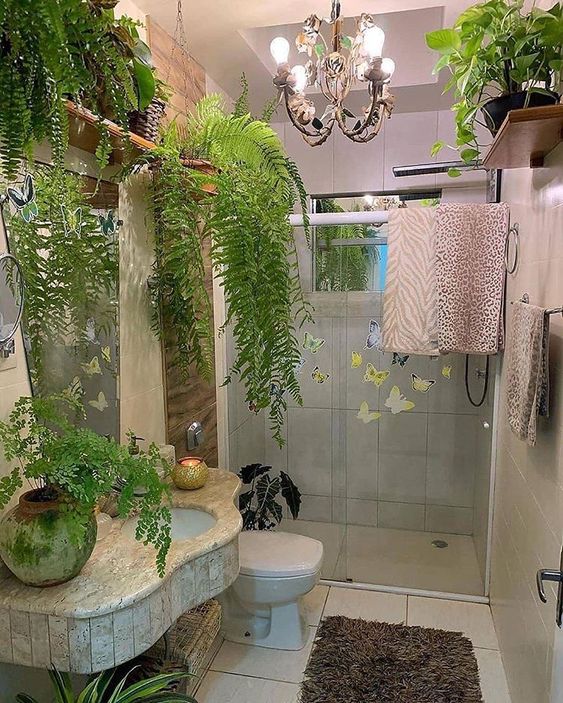 Combine Wall Art & Plants In Your Bathroom Decor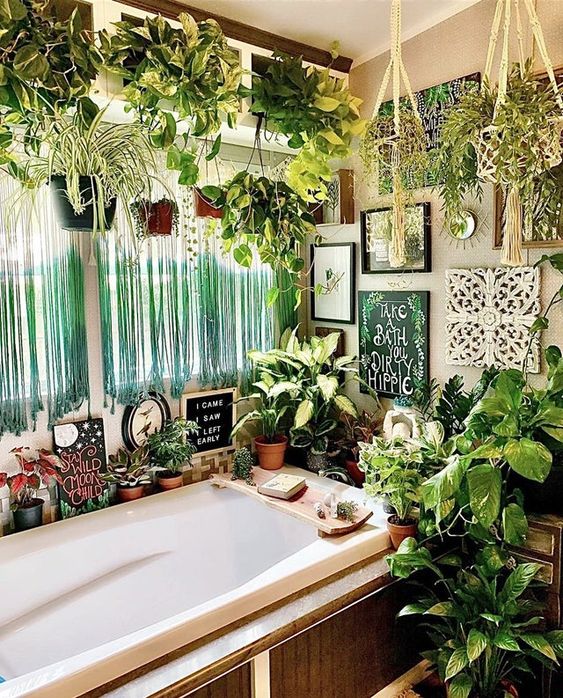 Image: via Pinterest.
Place Plants On Your Bathroom Window Sill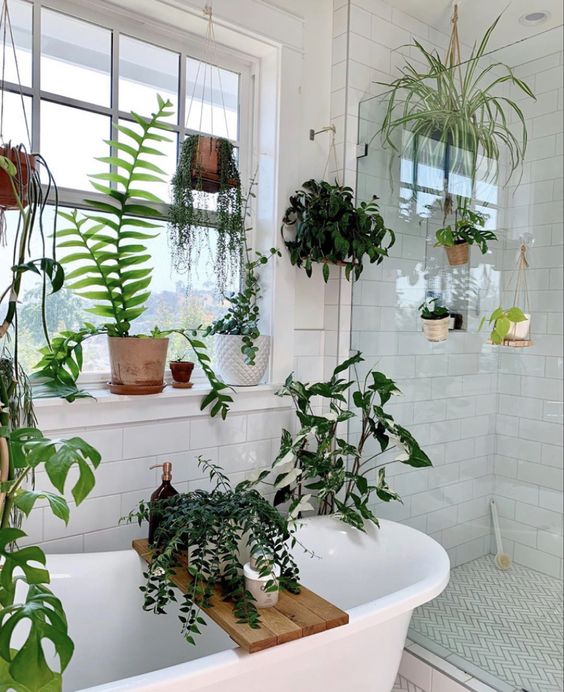 Arrange Them Neatly
Image: @athomewithfoxandfern via Pinterest.
Add Hanging Plants Above Your Bathroom Mirror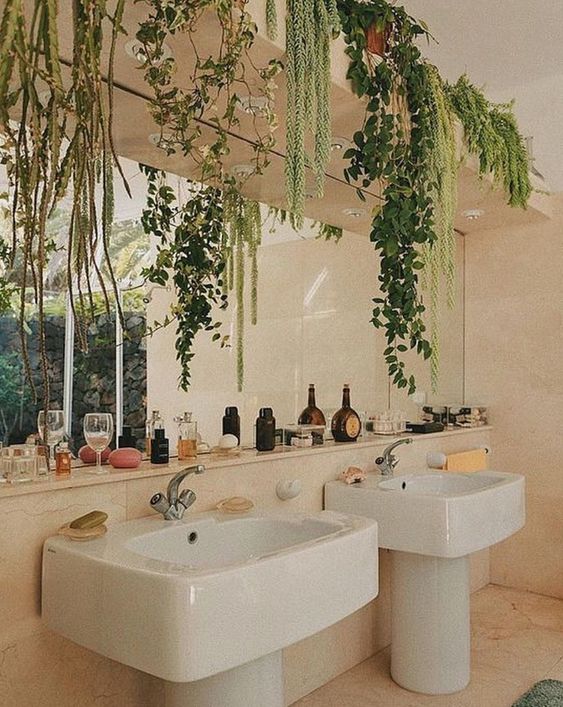 Adorn Your Bathtub With Plants
Drape Plants From Your Bathroom Ceiling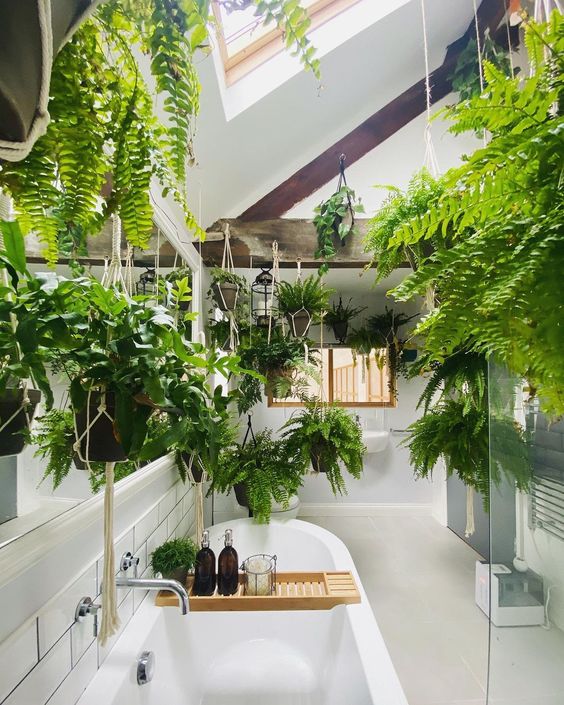 Complete Your Boho Bathroom Decor With Plants
Image: Omysa
Add Plants Inside The Shower
@thishouse5000
Jungle Bath Nook
The Epic Bathroom Plant Wall
Image: Suite Arquitetos office project (Photo: Ricardo Bassetti / Publicity)
The Best Plants For Bathrooms
Now that you're inspired and ready to create your plant-filled bathroom decor, it's time to figure out what plants to incorporate into your design.
There are a few things to consider when choosing plants for a bathroom. Bathrooms are often humid, with changes in temperature and of course low light. This makes finding the right plants a little tricky. But don't worry. I've put together a list of the best plants for bathrooms!
Most of these plants thrive in high humidity and low-light environments and some may even purify the air in your bathroom. Now, who doesn't want that?!
POTHOS – The pothos is one of my favorite bathroom plants they're low-maintenance. Pothos plants are tough plants and kind of hard to kill. They don't require daily watering, love moderate to low, indirect light, and can tolerate humid conditions. It grows quickly and loves to hang and trail, making them the perfect decorative plant!
LUCKY BAMBOO – Inexpensive, easy to grow, and enjoys a low-light setting. Not to mention their beautiful and unique shape.
CAST IRON PLANT – If you are a notorious plant killer this is the plant for you. The Cast Iron plant enjoys a low light setting and can tolerate a little neglect (for those of us who forget to water our plants). It can also tolerate extremes of temperature.
GARDENIA – These beauties are tropical, which means they'll thrive in humid bathrooms. They do well in bright indirect light, so if your bathroom gets at least four hours of sun the window would be a great spot for a gardenia

CHINESE EVERGREEN – Also known as Aglaonema, is another tropical plant that do well in bathrooms. The Chinese Evergreen plant is a lush, leafy plant with white or pink markings. They are decorative and easy to care for. It thrives in moist but not water-logged soil, so water it thoroughly, then allow it to dry out before watering again. But please take care if you have pets because this plant is toxic to dogs and cats.
DIEFFENBACHIA – The Dieffenbachia is a hardy easy-to-care-for plant that grows throughout the year. This plant actually needs protection from direct sunlight so provide artificial light or bright indirect light to keep these beauties healthy and thriving. It likes high humidity and like the Chinese Evergreen, water thoroughly and allow the soil to dry out before watering again. Easy-peasy!
Other bathroom-friendly plants include:
Snake Plant
Ivy
Orchids
Peace Lily
Spider Plant
ZZ Plant
Want More Natural Decor Ideas?