10 Tempting Handmade Home Decor Accents From Amazon
If you're looking for handmade home decor then Amazon's Handmade section is an affordable place to start.
Amazon Handmade is an exclusive, artisan-only community on Amazon where artists and crafters can sell their unique, one-of-a-kind products to customers around the world.
You're sure to get authentically handcrafted goods since amazon requires that everything sold on Handmade must be handmade, hand-altered, or hand-assembled; no mass-produced products are allowed to be sold on the marketplace.
Handmade home decor accents are special in their own right. They tell a story, have a history, and are often created using natural, organic materials.
If you're interested in decor accessories made from natural l]materials I rounded some natural decor accessories in my other post HERE.
I put together some inspiring and tempting handmade home decor accessories to add to your decor. You're going to love these!
**This page contains affiliate links. If you make a purchase through these links I may receive a small commission. See the full disclosure here.**
Pin This For Inspiration Later!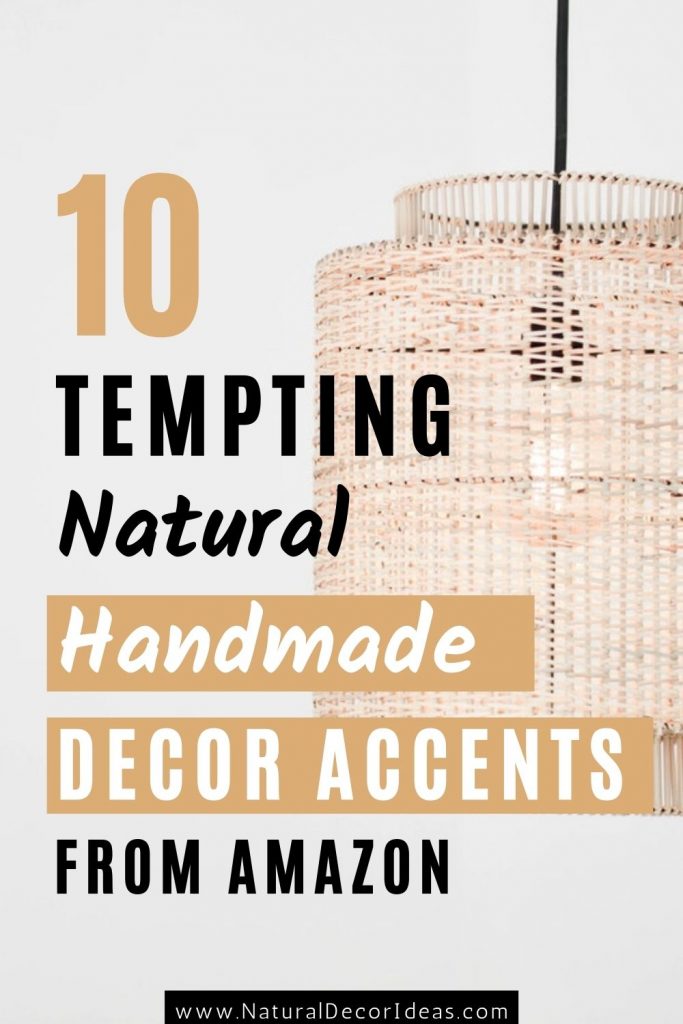 10 Inspiring Handmade Home Decor Accents From Amazon
Ellipse Wood Pendant Light, By Dezaart
The Ellipse has been characterized as both modern and ingeniously original. At night, it creates a pattern of light on the ceiling giving a warm, cozy glow. Handmade crafted in Greece by a family-owned workshop, the Elipse is made from environmentally friendly MDF Coated Wood.
Coconut Bowls with Spoons by BeeGreeny (Set of 4)
These eco-friendly, bowls are 100% organic, reusable, easy to clean, and healthy to eat from. The bowls are polished with coconut oil for a smooth finish, and the forks and spoons are made of wood. No ink, dye, or bleach was used in the creation of this product.
Handmade Illuminating Nightstand
Clean, simple lines pair with a striking design on this stacked and illuminating modern table.  The table is made of 60 individual pieces of wood and each piece is cut, sanded, stained, and assembled by hand.  This compact end table/nightstand creates an eye-catching look with subtle sensibility that blends with any modern to casual home decor. 
Handmade Aztec Throw Blanket
This thick, weighted throw blanket was made with special handmade technology. Made of pure sheep wool materials. The maker uses the same weaving technique passed down from his ancestors. They didn't use any paints or previous manufacturing, so he decided to keep this tradition.  He provides details about the process on the product page.